Why a vehicle for Supermalls?
Due to sudden boom in the market of "Malls" concept in India, quality of service provided by the malls becomes a premium factor of stiff competition. Owing to the economic surge in the buying capacity of the working youth in major metros all over India, Malls are now more of a social hub than a shopping experience.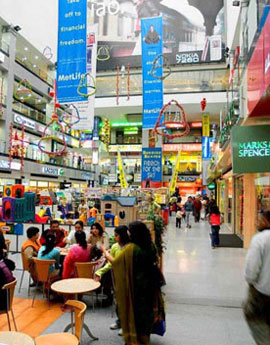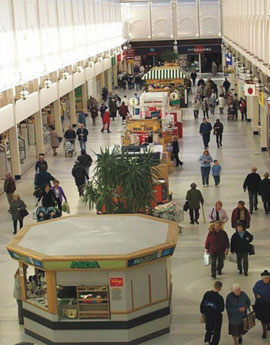 Malls - More of a social hub than a shopping experience.
The Need:
Providing the best services to customers has become a main priority for any super mall. Transportation within the huge malls and supermarket is one of the area which is not been addressed. Hence, the narrator felt the need of an appropriate design which supports the situation of super mall which is very tight and crowded space. Though the malls have adapted the existing golf carts in the market with various capacities for passenger carriers; No ideal vehicle designed for this purpose.
The intention was not only to improve the experience of shopping to attract more customers, help the first‐timer to easily navigate through the mall but to provide an easy transportation solution for physically challenged and elderly people also.

The project 'Design of an Electric Cart for Malls' deals with the (utility related) design issues of transportation within the huge malls and try to add some visual values in context to the environment of super mall.
Aim:
The aim of the project is to address all the issues related to public transportation within the mall, in respect to the environment within the mall and design an electrical vehicle/cart which can cater to the transportation needs for the people who come to visit the super mall.

The cart is an ideal transportation solution for short distances for both mall visitors as well as the working staff within the malls. It is designed to benefit a particular group of users like, aged people, kids, and people carrying lots of shopping bags and physically challenged people and can transport eight people at a time.
Case Study Downloads:
Design of an Electric Cart - Vehicle Design for Malls - Pdf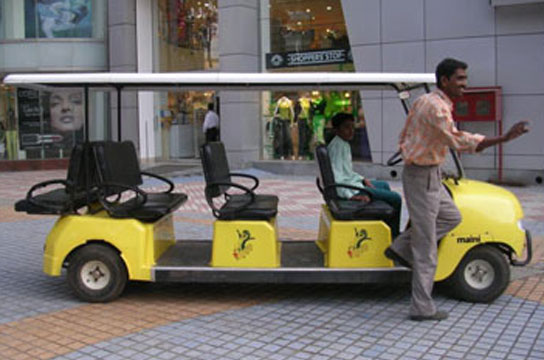 Existing BEV's (Battery Electric Vehicle) in various contexts of use.