1501 Safavid dynasty (1501 – 1722) was founded by Shah Isma'il I (r. 1502–1524). He defeats the Aq Qoyunlu Turkman dynasty, establishes the capital city at Tabriz. Safavid dynasty was set up the Shi'a sect of Islam as the state religion. Following repeated Ottoman attacks on Tabriz, his son Tahmasp moves the capital to Qazvin; later, Shah Abbas moves it again, to Isfahan. As well as being responsible for the patronage of some magnificent art and architecture, the Safavids are of great significance in the history of Iran since they impose Shi'ism as its official religion. The period of Safavid Rule was a golden age of art and calligraphy in Iran.
 
1510 About this year, hand-written and hand-decorated books largely stopped being produced, after printing became ubiquitous. However, at the end of the 19th century, William Morris and the Arts and Crafts Movement redefined, revived and popularised English broad-pen calligraphy.
 
1512 Accession of Ottoman Sultan Selim 'The Grim' (r.1512-20). The victory against the Safavids and the addition of Mamluk Syria, Egypt, and the Holy Cities of Mecca and Medina to the Ottoman realm leads to the increased presence of Iranian and Arab artists and intellectuals at the Ottoman court.
 
1514 Shah Isma'il's army is defeated at the Battle of Chaldiran by the Ottomans who gain control over the north-western part of Iran.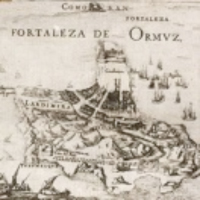 1514 The Portuguese capture the island of Hormuz in the Persian Gulf. It remained under their control for over a century until the reign of Shah 'Abbas I (1587–1629).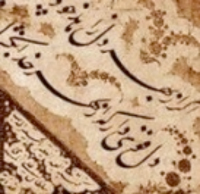 1520 Sultan Ali Mashhadi (1453-1520) died in Mashhad. From 1470 to 1506 Sultan `Ali worked at the Timurid court in Herat for the royal author Sultan Husayn Bayqarah (1438–1506), the last great Timurid ruler, a notable poet, statesman, and patron of the arts and literature. He wrote a treatise on calligraphy, which is known as Sratalstur.
 
1520 (926 AH) Shaykh Hamdullah Amasi (1429-1520) one of the greatest and most esteemed calligraphers of the Ottoman period died. He is credited with having instructed Sultan Bayazid II. Shown above is a leaf from a calligraphic album by Shaykh Hamdullah, which dates from the early 16th century. He trained a lot of pupil and through them calligraphy encouraged to Ottoman Empire.
 
1520 Accession of Ottoman Sultan Suleyman 'The Magnificent' (r.1520-66). His reign is characterized as a 'golden age' in Ottoman history with geographic expansion, trade, economic growth, and tremendous cultural and artistic activity. Developments in calligraphy, manuscript painting, textiles and ceramics are particularly significant.
 
1521 (928 A.H), The earliest inscription in pure Nasta'liq discovered in India.
 
1524 (930 AH) began the production of Tahmasbi Shahnameh, mistakenly known as Houghton's one of the biggest Iranian work of art, by order of Shah Isma'il I (r. 1502–1524). This book which was compiled upon the instruction of Shah Tahmasb I (1524-1576) originally 700 pages contained 258 miniatures. Tahmasbi Shahnameh is an exceptional work of art in which several great Safavid master painters and their students were engaged. This is a treasure house of the best painting in Iran. Tahmasbi Shahnameh was completed and perfected within a period of 20 years by masters such as Mir Mosavar, Sultan Mohammad, Aqa Mirak, Doost Mohammad, Mirza Ali, Mir Seyed Ali, Mozafar Ali, Abdolsamad, and tens of other artists.
 
1524 Accession of the second Safavid ruler Shah Tahmasp I (r. 1524-76). He was a young governor of Herat who succeeded his father Shah Isma'il I. He had longest rule in Safavid dynasty and he personally has been famous in calligraphy.
 
1526 Timurid prince Zahir ud-Din Mohammad, commonly known as Babur (r.1526-1530 C.E./932-937A.H.) the ruler of Ferghana in Central Asia invaded India. He defeated Ibrahim, the sultan of Delhi at Panipat and captured Delhi marking the beginning of the Mughal Empire (1526-1858). His descendants enlarged their territory to include Rajasthan, Gujarat and the Deccan. The period of Mughal Rule was a golden age of art and calligraphy in India. The reign of Mughals constitute the most glorious periods in the development of the art and architecture, literature and translation of various book into various languages in India as well as calligraphy as the most respected of Islamic art.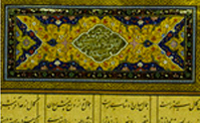 1528 (935 AH.) Obaid Khan nephew of Muhammad Shaybani (r. 1500-10) founder of Shaybanids, took Herat for a short time and carried Mir Ali Heravi (d. 1544) into captivity to Bukhara.
 
1530 Babur died and his son Humayun assumes power.
 
1534 The Ottomans temporarily occupy the Safavid capital of Tabriz.
 
1539 Shah Muhammad Neishaburi wrote the Holy Qur'an in Nasta'liq. There is only one copy of the Qur'an written in this style.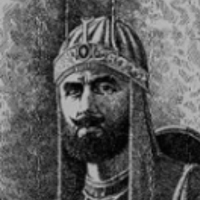 1540 Afghan Leader Sher Shah defeats Humayun and seizes the empire. Humayun fled to the refuge of the Safavid Empire in Iran.
 
1555 (936 A.H) Humayun with Persian aid re-conquered Delhi and recovers his crown and throne.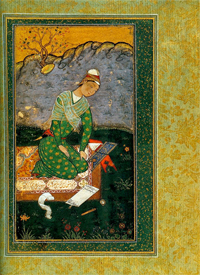 1555 (936 A.H), Mir Sayyed Ali Tbrizi and Khwajah Abdul Samad were two well-known painters who were brought to India by Humayun when he recovered his crown and throne. Abdul Samad honoured by title of Shirin Raqam (Sweet pen) not only was a promising painter and had more influence to funding Mughal painting school but he was also a skilful calligrapher. He was expert in both Jali and Khafi writing. He wrote Surah Ikhlas on a single poppy seed to prove his skill. The credit of calligraphy of the Hamzanama most probably goes to him. This book is one of the most important works of bookmaking during Mughal period. The illustrated manuscript created during the Akbar's reign originally comprised 1,400 canvas folios. According to Badayuni and Shahnawaz Khan the work of preparing the illustrations was supervised initially by Mir Sayyid Ali and subsequently by Abdus Samad. It took fifteen years to complete the work.
 
1555 Shah Tahmasp I transfers the Safavid capital from Tabriz to Qazvin.
 
1555 Suleyman the Magnificent establishes the Treaty of Amasya with Shah Tahmasp I.
 
1556 Accession of King Philip II of Spain (r.1556-98) and later of Portugal (as Philip I, r.1580-98).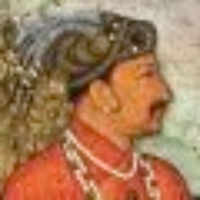 1556 March 4 Humayun dies, young Akbar (r.1556-1605) is enthroned. The Mughal During period of Emperor Akbar there is a flowering of a syncretistic Mughal style in architecture and the arts, as also reflected in Akbar's new religious doctrine.
 
1567 Accession of King James VI of Scotland (r.1567-1625) and later as first Stuart King of England (r.1603-25) Literature and drama flourish at his court, as the king lends his patronage to such luminaries as playwrights Ben Jonson (1572-1637) and William Shakespeare (1564-1616).
 
1571 Built of the Jama Masjid complex in Fatehpur Sikri was completed. There are some elegant inscriptions by Thuluth as well as Nasta'liq in different parts of this complex. The grand Jami' Masjed at Fatehpur Sikri is one of the largest Masjids in India.
 
1572 Accession of the Ming Emperor Wanli, whose long rule (r.1572-1620) witnesses the decline of the empire. China is one of the wealthier and more populous nations in the world during this period, largely due to efficient production and trade in tea and luxury goods such as silk and porcelain. His reign witnessed some of the earliest Western inroads into China.
 
1576 August 22 Shah Isma'il II (r.1576-7) crowned in Iran as the third Safavid ruler.
 
1576 Accession of Rudolph II as Holy Roman Emperor (Habsburg King of Hungary, Austria, Moravia and Bohemia [r.1552-1612] and Emperor [r.1576-1612]). He raises court patronage in post-Renaissance Europe to a new level of breadth and extravagance.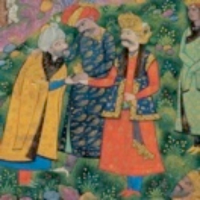 1577 Accession of the fourth Safavid ruler Shah Muhammad Khudabandeh (r.1577-87).
 
1576 Shown here is the Tughra of Murad III, dated 1576. During 16th century Ottoman, Tughra became to a particular characteristic of Ottoman calligraphy. This consisted of the name of the sultan together with that of his father, followed by the traditional Turkish title Khan and the words 'ever victorious'. The earliest surviving Tughra dates from the first half of the 14th century, and is relatively simple; by the 16th century, the design had become considerably more elaborate.
 
1577 Prince 'Abbas is made governor of Khurasan province at the age of seven.
 
1577 (984 AH) Safavid Prince Sultan Ibrahim Mirza Abolfath (946-984 AH/1539-1577 CE) died. He was son of Bahram Mirza and grandson of Shah Ismail Safavi as well as son-in-law of Shah Tahmasb. He had served 12 years as ruler of Khorasan. His prominent collection was include the best masterpices of calligraphy, painting, jewelry and porcelain. His Muraqqa' (album) known as Muraqqa'-e Ibrahim Mirza Safavi is very famous. Sultan Ibrahim Mirza Safavi was a perfect calligrapher in Nasta'liq. He was pupil of Malk Dailami and followed the style of Mir Ali Heravi. He wrote Nastaliq in large size (Jali) very good as well as in small size (khafi). Her signature was, "Faqir Ibrahim" (poor Ibrahim) or "Faqir Ibrahim ibn Bahram".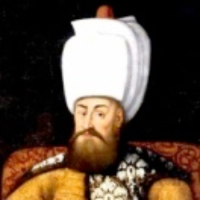 1578 The Ottomans under Sultan Murad III (r1574-1595) waged war on the Safavids from 1578 to 1590.
 
1579 Accession of the Deccani Sultan Ibrahim 'Adil Shah II (r.1579-1626). A poet, calligrapher and musician himself, he is the dynasty's greatest patron of the arts. During his reign Bijapur became the most important centre of painting in the Deccan.
 
1583 Accession of 'Abdullah Khan Uzbek II (r.1583-98). A distinctive school of painting develops at Bukhara in Central Asia under the Uzbeks.
 
1587 The greatest of the Safavid monarchs, Shah 'Abbas I (r.1587–1629) came to power at the age of sixteen as the fifth Safavid ruler. The reign of Shah 'Abbas the Great marked the pinnacle of the Safavid dynasty. He developed a disciplined standing army and defeated the Ottomans. Shah 'Abbas I was one of Iran's most influential leaders. Combining his ruthless ambition with a desire for stability, he left a far-reaching mark on the society and artistic heritage of Iran, renovating the countries spectacular shrines and transforming its trading relations with the rest of the world. He moved his capital from Qazvin to Isfahan and set about lavishly decorating the city with some stunning architecture, including the Masjid-i Shah and Masjid-i Shaykh Lutfallah. During reign of 'Abbas I, Persian craftsmen and artists excelled in creating fine silks, cloths, porcelain, metalwork, calligraphy, miniatures and carpets.
 
1589 The Uzbeks seize control of Mashhad from the Safavids for the next nine years.
 
1590 The Ain-i-Akbari or the "Institutes of Akbar" written by Abu'l-Fazl ibn Mubarak, vizier of Akbar.
 
1598 Shah Abbas I (r. 1587-1629) moves the Safavid capital from Qazvin to Isfahan. A strong supporter of the arts, especially architecture, he adorned Isfahan with some of the finest Islamic monuments in the world. He built a number of Masjids, schools, bridges and a major bazaar. The reign of Shah Abbas I is probably the pinnacle of the Persian arts and calligraphy. Many master calligraphers created the best inscriptions and manuscripts including Abdul-Baqi Tabrizi (d. 1629) Aliresa Abassi (d. 1628), Mohamad reaz Imami Isfahani (1629-1677) Mirza Ahamad Neirizi (1676-1742), and Emad al-Molk Qazvini Hassani known as Mir Emad (1554-1615) who was the greatest master in Nasta'liq.
 
1598 Golestan-e Honar, treatise on the art of calligraphy, with brief biographical notices on a selection of past and contemporary calligraphers and artists were written by the Safavid author and historian Qazi Ahmad b. Sharaf-al-Din Hosayn Monshi Qomi Ebrahimi.
 
1600 The East India Company was founded, as The Company of Merchants of London Trading into the East Indies.