1601 Shah 'Abbas performs a barefooted pilgrimage from Isfahan to the Shrine of Imam Riza at Mashhad.
 
1602 Establishment of the Dutch East India Company.
 
1603, Death of Queen Elizabeth I (r.1558-1603). By this time England had become the centre of a rich literary culture and, with its powerful navy, maintains numerous trading interests in Europe and the East and claims in the New World.
 
1603 Sixteen-year construction of the Shaykh Lutfallah Masjid begins in the Naghsh-e Jahan maidan at Isfahan. There are some elegant specimens of Islamic tiles and calligraphic inscriptions in outdoor and indoor of this glorious Masjid.
 
1603-4 Shah 'Abbas forcibly resettles thousands of industrious Christian Armenian families from Julfa in Azerbaijan to New Julfa, a suburb of Isfahan, to bolster the luxury silk trade.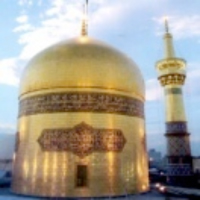 1602 (1010 AH) Ali Reza Abbasi Tabrizi wrote the Thuluth inscription of the golden dome of Imam Reza shrine in Mashhad. He was Shah Abbas' companion and worked under his patronage. He wrote a lot of perfect Thuluth inscriptions in Qazvin, Isfahan and Mashhad. In addition of Thuluth and Naskh he was expert in Nastaliq too. Ali Reza Abbasi's was a pupil of Mohammad Hossein Tabrizi (Mir Emad's teacher) and later on became Mir Emad's opponent. During 1601-6 Shah 'Abbas commissions the renovation of Imam Riza's shrine, including the re-gilding of the golden dome.
 
1605, Death of Akbar and succession of son the fourth Mughal Emperor Jahangir (r.1605-27). From his capital at Agra, he and his wife Nur Jahan set a tone of courtly elegance combining Indian and Persian culture, and they continued an active patronage to art.
 
1607-8, Shah 'Abbas presented a large donation to the shrine at Mashhad in the form of antique Qur'ans and other religious and scientific manuscripts. At the same time he maked a large charitable donation to the Ardabil Shrine, including over a thousand pieces of Chinese blue-and- white porcelain, and orders the construction of the Chini-khaneh for their display in the shrine.
 
1612-13 Construction of Shah 'Abbas's grand congregational Masjid, the Masjid-i Shah (also called the Masjid-i Emam), begins in Isfahan. The Masjid-i Shah in Isfahan is an outstanding example of Safavid architecture. Almost the entire surface of the interior, together with the main portal facade, is sheathed in polychrome glazed tiles (predominantly turquoise, and largely replaced in the 1930s). The soaring bulbous dome, some 52m high, is also covered with tiles decorated with spiralling arabesques. There are number of elegant specimens of calligraphic inscriptions in this magnificent Masjid.
 
1615 August 15 Mir Emad (Emad al-Molk Qazvini Hassani) the most celebrated Persian calligrapher, implicitly sentenced to death by Shah Abbas I.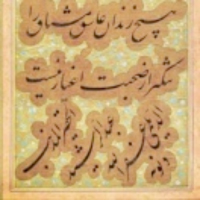 1615 (1024 AH) 'Abdul Rashid Deylami otherwise known as Aqa, a pupil of Mir Emad migrated to India in and settled in Kashmir. He joined ShahJahan court and appointed as trainer of Prince Dara shokuh. 'Abdur Rashd was appointed an instructor in calligraphy for the crown Prince Dara Shikoh by Shah Jahán. Emperor Aurangzeb's daughter, Zebu-n-nisa, is also stated to have been a pupil of Aqa. Most of the critics believe he was greatest master of calligraphy how came to India from Iran.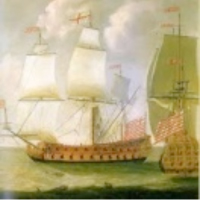 1622 Using the ships of the British East India Company, Abbas ousts the Portuguese from Hormuz to regain control of trade through the Persian Gulf. The English send a diplomatic embassy to Shah Abbas, headed by Sir Dodmore Cotton.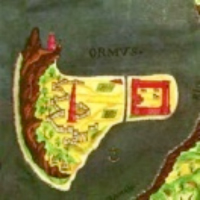 1622, Shah 'Abbas's army, aided by the ships of the English East India Company, expel the Portuguese from the island of Hormuz.
 
1623, The Safavids conquer Najaf, site of the Shrine of Imam 'Ali in Iraq, from the Ottomans.
 
1625, Accession of Charles I (r. 1625-49) as King of Great Britain and Ireland. Known as a great collector of artworks and patron of many of the period's great artists such as the Flemish painter Peter Paul Rubens.
 
1626, (1035 AH.) Mir Khalil ullah Shah known as the "Malik-ul-Qalam" (The king of the pen) and "Qalandar" the Iranian calligrapher in the late 16th and early 17th century died. His spent few years in court of Ibrahim Adil Shah II (r. 1556 – 1627 CE /963-1035 AH) ruler of Deccan. Mir Khalil ullah Shah was greatly honoured in his days. He copied the "Nav-Ras" with great care and made a present of it to Ibrahim Adil Shah II (sultan and later shah of the Indian kingdom of Bijapur). The king was extremely pleased with the gift and the accomplishment of the artist. He gave him the title of "Malik-ul-Qalam" and a mark of extraordinary honour made him sit on his throne.
 
1627, Shah 'Abbas endows the Shrine of Fatimeh Ma'sumeh with over a hundred precious manuscripts. There are some inscriptions by Kufic, Bana'ei and Thuluth for different era.
 
1627 Jahangir dies and Shah Jahan (1592 – 1666) assumes the throne, crushing his rivals. He was the fifth Mughal emperor. The period of his reign was the golden age of Mughal architecture. Shahanshah Shah Jahan erected many splendid monuments, the most famous of which is the legendary Taj Mahal at Agra built as a tomb for his wife, Empress Mumtaz Mahal. The Pearl Masjid and many other buildings in Agra, the Red Fort and the Jama Masjid in Delhi, Masjids in Lahore, extensions to Lahore Fort and a Masjid in Thatta also commemorate him.
 
1627, Abdul Rahim Khan-e-Khana (1556 – 1627 / 964 – 1036 AH.) died. He was a composer in the times of Mughal emperor Akbar, and one of his main nine ministers (Diwan) in his court, also known as the Navaratnas. He accompany with his father, Bairam Khan, was a strong patronage of Persian Art in Mughal curt.
 
1629, 19 January Shah Abbas I died. During his long reign the Safavid Empire's reach comprised Iran, Iraq, Armenia, Azerbaijan Republic, Georgia and parts of Turkmenistan, Uzbekistan, Afghanistan, and Pakistan. After him Shah Safi I (r. 1629–1642) became the sixth Safavid ruler.
 
1642 Abbas II (r. 1642–1666) the seventh Safavid Emperor assumes power.
 
1631, Shah Jahan's queen Mamtaz Mahal dies during childbirth; Shah Jahan commissions the building of her tomb, the Taj Mahal.
 
1637, The Safavid emperor, Shah Safi (r. 1629–42) loses Baghdad and Qandahar.
 
1634, (1044 AH) In Lahore, Masjid-i-Wazir Khan preserves an excessive and acquisitive work of Thulth writing of Shahjhan's time.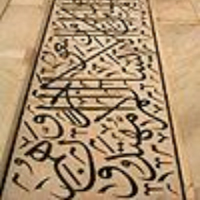 1638 (1048 AH), the calligraphic inscriptions of Taj Mahal were created by Amanat Khan Shirazi (Abd ul-Haq). He came to India from Shiraz, Iran in 1609. Thereafter On June 13, 1632, Shah Jahan conferred on him the title of Amanat Khan as a reward for his "dazzling virtuosity". During Jahangir's reign, Amanat Kahn had been responsible for the calligraphic work of the Akbar mausoleum at Sikandra (completed in 1613), and for that of the Madrasah Shahi Masjid at Agra. The Taj Mahal was built during 1632 till 1647 by Shah Jahan for his favourite wife Mumtaz Mahal, who died in childbirth in 1631. The octagonal tomb is surmounted by a huge, bulbous central dome set on a cylindrical drum, and surrounded by four corner-pavilions crowned with chhatris. It is faced entirely with white marble, and stands on a high platform with four tall minarets. This platform is flanked by a Masjid and a guesthouse in red sandstone. The mausoleum stands at the northern end of a rectangular garden with an elongated pool at its centre. The garden is entered through a massive gateway to the South, from where the mausoleum is seen reflected across the pool.
 
1642 (1052 AH.), Hassan Khan Shamlu ruler of Herat in the time of Shah Abbas I died. He was a great master of Nasta'liq in addition of his literary, political and administrative features.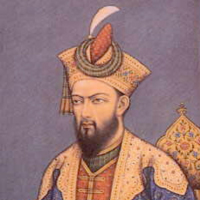 1658 Shah Jahan's son Aurangajeb executes his brothers, imprisons his father and ascends to the throne of Delhi.
 
1659 (1070 AH), the Persian calligrapher Mohammed Saeed Ashraf Mazandarani migrated to India. He grew in Isfahan and joined to Aurangzeb court.
 
1666, Shah Jahan died in Agra.
 
1666, Suleiman I of Persia (r. 1666–1694) came to power as the eighth Safavid Emperor.
 
1689 (1100 AH.), Morteza Quli Khan Shamlu son Hassan Khan Shamlu died. He was the Safavid ruler of Herat in the time of Suleiman I (r. 1666- 1694 C.E./ 1077- 1105 A.H) as well as one of the earliest calligraphers in Shekasteh style. Some critics mentioned his name as the creator of Shekasteh.
 
1694 Sultan Hoseyn I (r. 1694–1722) assumes power. His reign saw the downfall of the Safavid dynasty, which had ruled Persia since the beginning of the 16th century.
 
1698 Grate calligrapher in Ottoman curt Hafiz Osman (1642 – 1698) died. He was largely responsible for the revival of naskh and the other classical hands, the use of which had declined some­what by the end of the 16th century. He was tutor to the sultans Ahmed II, Mustafa II and Ahmed III, and was esteemed by the sultan Mustafa II who held his inkwell as he wrote. He is credited with reinvigorating the tradition of Shaykh Hamdullah, in particular with re-introducing a number of scripts that had fallen into disuse. The development of Diwani Jali was credited by him.