Professors were meeting students after a weeklong Diwali vacation. Prof. Bapat and Prof. Purba had a meeting with each student before the beginning of vacation. They had given them the necessary feedback on their initial design brief and also instructed them that from now on they would like to see the quick-rough-models, scaled or 1:1 whichever best suites the type of contraption on which they are working.

After taking review in the first meeting after Diwali, Professors were not happy with the progress of the projects. Wire group members were asked to make more models and also cautioned to monitor their workmanship as the smooth curves and bends play an important role in the beauty of wire form products. The student working on champagne bottle holder was asked to get an empty champagne bottle and feel its form, weight and was also asked to use it for explaining the further explorations. The other student from wire form group working on magazine holder was also asked to get real magazines and use them for explaining and showing further explanations.

Other three groups were also asked to make more quick-models as Professors wanted everybody to explore for that elusive WOW factor in their design. A discussion with toy group helped the

students to clear their doubts about mechanism issues, but it still needed to be tried out in actual. Students were asked to make a function proving model before working on the formal aspect of the design.

Not enough,
Explore more...
It was time for many students to go back to drawing book and ideates or search for that WOW factor.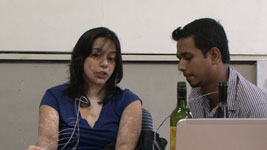 Water storing devices group members were asked to look more into the user needs and scenarios in which their proposed contraption was going to work. 

For Example:
A student working on a design of water bottle for a regular jogger was asked to jog with the simulated conditions of weight, size and mounting position of bottle. 

The other student who was working on bucket design was asked to priorities his list of desired features as two concepts having different features cannot be compared on the common ground. 
For example: 
A bucket which is good in stacking may not be comfortable for moving water from one place to other. But if a bucket designed to move water from one place to other can be stacked, along with serving its main feature of ease in transporting water then it will definitely score high in the concept evaluation chart.

LED reading lamp group was asked to explore more formal possibilities for their lamp. They were also cautioned to remember the practicality of the concept. Professors told them that along with gelling with the environment the lamp should also function i.e. battery space, charging cable place, necessary buttons, stable base, mounting details if required, hinge details, fixing and assembly details, parting lines and so on.

Not enough,
Explore more...
Students working on problem solving design brief, were asked to put themselves in the shoes of user and others were also guided on formal and aesthetical aspects.