Once the type of music video is finalized, start exploring different ways of animation. There are many mediums available like classical 2D animation, 3D animation, clay animation, stop motion, cutout animation and many more. Which style you wish to choose, completely depends on you. Only that it should justify the visuals for the song. As I enjoy doing 2D classical animation, I decided that I would be doing 2D animation for this song. Also, I want to mix mediums wherever possible to give it more abstract feel.
Story Sketches:
Once my style and medium is finalized I started scribbling all the initial ideas on paper, drawing different situations and events from the story.
Character Study:
For designing of the characters I started collecting data on monkeys and their behaviors. I downloaded some reference images that can be useful while drawing monkeys. Also, saw some videos to understand the behavior of monkey.
I started exploring different styles to draw monkeys with the help of reference images. While drawing many types of monkeys I found the character style, which will be suitable for this song.

Once I found my character style I started developing other characters from the story.
I tried drawing baby monkeys, old monkeys, female monkeys, their expressions and different poses.

Some sketches showing facial expressions.

It is kind of practicing to draw the same character in different poses and actions. Like drawing monkeys in different profiles like front, back, 3/4 and side doing all sort of monkey things.

The story is happening in mainly two locations:
• Past life in Jungles of India and
• Present life in a cage of City zoo.
I tried to study their interaction with both the locations. Few different sketches showing Joe holding bars of the cage, waving and playing with his own tail, monkeys sitting on a tree branch, Joe walking on two legs etc. were also drawn.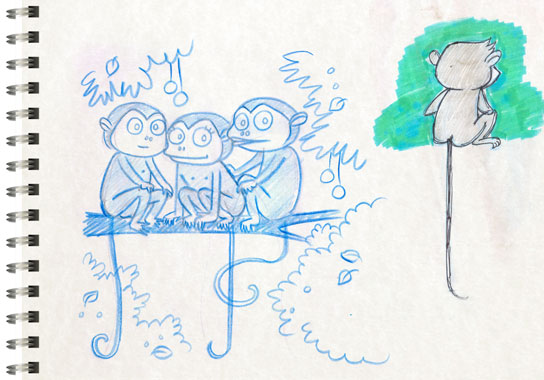 As there is one mother and baby duo in the story, I tried to draw them with the help of references. Monkey baby is always hugging to mother's stomach or back.

Other Explorations: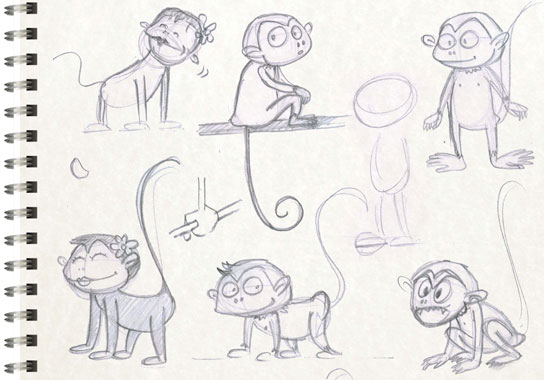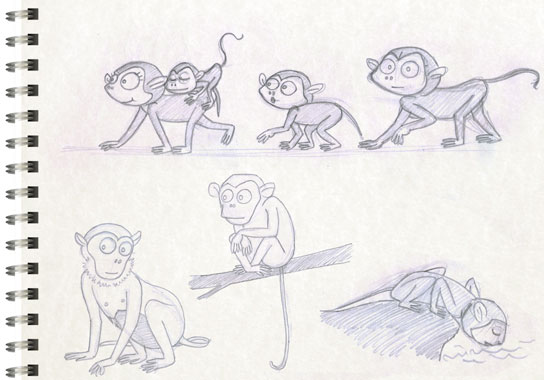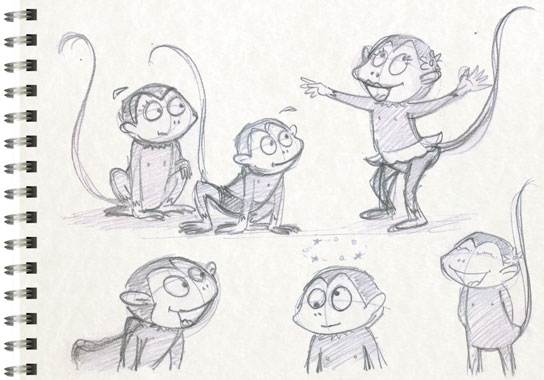 After drawing many solo character drawings I started drawing them in groups. I took references from you tube videos to understand their group behaviors. In natural habitat, Monkeys always live in a group as a family. In every family, there is only one grown up male who acts as a head of the family and multiple females and many baby monkeys.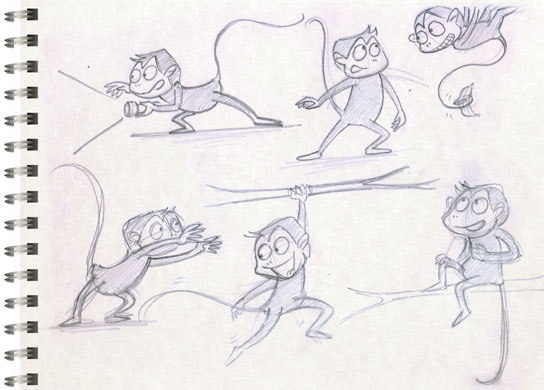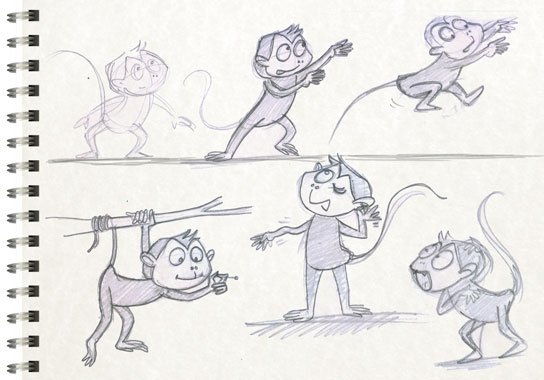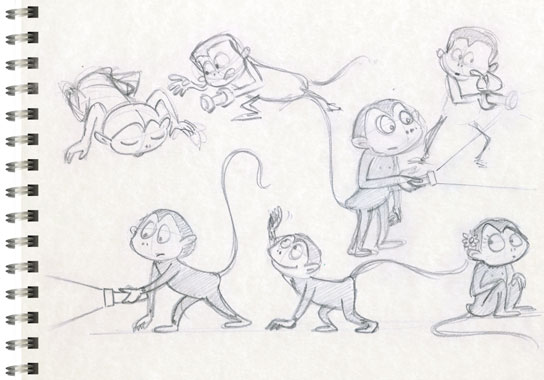 Monkeys are very notorious and active animals. To incorporate these characteristics while animating the character, it is very important to understand their walk cycles and jump cycles. If I make the poses more strong and dynamic, it will help me to reduce the animation and same time actions will be more effective and realistic.

Exploring Background images:
Along with the character designing I also started exploring some backgrounds and props wherever needed.