For selecting the style, it is very important to understand the story narrated in the song. I have already explained different types of music videos in the previous Module (Animation Music Video -1).

For more details on 'Types of Music Videos' click here:
http://dsource.in/course/animation-music-video-1/types-music-videos

According to that, 'if the song has strong narrative element, then you can make Narrative type of music video where visuals are story based.'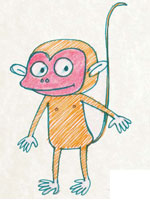 On the other hand, if the song is very slow, sad or weird; you cannot follow the narrative style as it will result in very boring and monotonous story telling. Instead, you can use some spectacular, interesting, impressive and completely unrelated visuals and narrative elements. Use abstract ways of making music video that will suit more for this type of songs.
After listening to the song many times, I realized that the song is little monotonous but has lot more scope for animation and creativity. It is a serious and sentimental story told in a linear way. This is the narrative story type song, featuring the singer in it.
Hence, I decided to make this music video partly in an abstract way where the visual may or may not follow the song word to word. Which means some visual will be just random visuals. Whereas, some visual will be following the narrative wherever it is suitable. Abstract style have more freedom for being creative and use innovative ideas.