• Joining:
Joining may be done either
- Before Firing or
- After Firing.
Before Firing:
   In this stage, the following process is followed:
. Decide the area of the parts to be joined.
. The joining area is cleaned with a wet sponge.
. Put some thick slurry of ceramics on the joining parts.
. Fix them together on each other.
. Again use a wet sponge to remove the extra slurry of ceramic from the joint and clean it    thoroughly to get an even surface.

After Firing:
   In this stage we can use mechanical fasteners and adhesives to join desired parts.
• Finishing:
Finishing involves the below mentioned steps:
- Cleaning and Glazing
- Painting
- Stickering and Printing
Cleaning and Glazing:
Cleaning:
After casting we should use a wet sponge to clean the surface of raw product at each stage. Sand paper can also be used depending upon the form.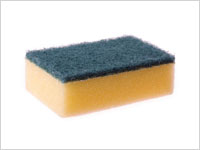 http://photo-dictionary.com/phrase/1377/sponge.html
Glazing:
Glazing can change the chroma, value, hue and texture of a surface. Kaolin used for glazing is expensive hence it is mixed in small proportion with ceramic and applied on the product. After firing this product once, it is again glazed with higher proportion of Kaolin to enhance the appearance of the product. This technique is mainly useful for products made up of red clay.
Painting:
The products are painted (in firing) step by step beginning with the colors like dark red, brown and black that are fixed at higher temperatures. Then group of colors like lemon yellow and golden which require lower temperatures are used and then the product is put in the furnace for firing. If these groups of colors are used together and fired, then the colors that require lower temperature get burned and turn black.
Stickering and Printing:
Painting described above is rather time consuming. Hence, in industry for mass production, Stickering and Printing are used. In these methods all the colours can be applied at the same time by adding a catalisor to the colors that require higher temperatures, which ensures that all the colours get fixed at a lower temperature.

In printing we can use silk print technique to print pattern on the ceramic product directly. While in stickering, the desired pattern printed on a transparent gelatin is placed on a special cardboard. Whenever it is required to be used, the cardboard is dipped in water. After few minutes the gelatin holding the colors, alone come off from the cardboard which is then directly applied on to the surface of the ceramic and is fixed permanently with firing.