Success has always been the ultimate goal of every activity, and a design project is no exception. However, success is not just elusive; it is also multifaceted and difficult to measure. Time, cost, and quality have long been the success criteria used to evaluate the performance of a design project. However, such a list has been criticized as not being comprehensive [1]. A firm can assess the success or failure of a development project in any (or all) of many terms, including customer satisfaction, financial return, and technical advantage. To complicate matters, success may be measured not only at the level of the individual project, but also at the program level. With so many variables to consider and so many stakeholders involved, managers face a difficult challenge just deciding which measures are useful for measuring product development success [2].
Though there no single measure for gauging the success of every product development [3], there are some structured methodologies for the design of performance measurement systems. Frameworks, such as the balanced scorecard and the performance prism, have been proposed however, little attention has been devoted to how managers can decide specifically which measures to adopt [4].
Deciding and agreeing performance measures into project goals and how success is evaluated is one of the key roles for the design manager. It is also one of the most important ways to demonstrate how design as an activity can demonstrate a return on investment in both financial and non-financial terms.
The design success lies not only in satisfying the clients brief but also being in line with the business case and targets, brand vision and values, customer satisfaction. It is therefore important to evaluate the project's success at the end of the project as it plays a key role in forming the knowledge base for learning. Form a check list to measure whether the stakeholder needs have been met, whether the project is in line with the success criterias established at the start of the project, etc. 
As businesses increasingly recognize the power of design to provide significant benefits, executives increasingly are asking for metrics to evaluate the performance of design. What is needed is a framework for measurement, a specific set of criteria, and methods to be used as a structure to define and measure the values of design [5].

The following presents a framework of 10 categories that can be useful when measuring the value of design [6]:
 
1. Purchase Influence: 
One type of design that is fairly easy to measure is packaging design. For example, a frozen-food manufacturer achieved incremental sales gains—based solely on a new suite of packaging. 'Same product, new packaging'.

2. New Markets: 
The design of products, communications, interfaces, and experiences can be isolated. Here's a simple example: British Airways had built a business strategy around increasing its long-haul international flights. So the company looked to see how the interior design of its planes could be improved to offer more comfort to customers. What resulted was the first seat in the industry that could lay completely flat, allowing customers to sleep prone, rather than slouch as in conventional airline seats. The result was a significant increase in sales and profitability for long-haul international flights. Design alone made the difference because everything else remained the same. 

3. Brand Image and Corporate Reputation: 
Design awards contribute to brand image. By providing an independent and expert critique of design, awards can provide valuable feedback, help build company pride, and confer prestige upon the business. Another example is corporate reputation for innovation and quality, based on their use of design as a core strategy. Design builds image. 

4. Time to Market: 
By establishing simple guidelines such as brand guidelines which includes interface principles, typography, colour, photography style, diagram style, and iconography as well as product guidelines that include a common platform for computer hardware and a standardized chassis and interface, as well as other shared components, development time can be greatly reduced. The cost and time savings based on platform design, guidelines, or even standards can be easily evaluated.
5. Cost Savings: 
Julie Hertenstein and Marjorie Platt, from North-eastern University's School of Business, have conducted research in conjunction with DMI, the Design Management Institute, on the financial performance of design since the mid-1990s. They evaluated financial performance by using traditional financial ratios, such as return on assets and net cash flow to sales, for the sample period. They found that firms rated as having good design were stronger on virtually all financial measures from a practical and managerial perspective, as well as from a statistical perspective. 

6. Enable Product and Service Innovation: 
What if a car dealer used design to create the perfect customer experience and increased sales by more than 25%? Open Road Toyota, working with Karo Design in Canada, did just that. They redesigned all their touch-points for a specific customer experience, and in 2006 they became the number-one Toyota (TM) dealer in Canada. The cars did not change but the design of everything else did, and sales skyrocketed. A deep understanding of customers was used to design the desired customer experience and then to design every touch-point so that it would support that experience. 

7. Develop Communities of Customers: 
Many new companies have been tremendously successful in developing new communities of customers. Consider Facebook and Google; design not only plays a role but is partially carried out by customers. This is engaging, sticky, and extremely effective. At times the professional designers need to allow the customers to play a part.

8. Create Intellectual Property:
Another way to measure design's contribution is to consider how much you've lost if it is stolen. In today's economy, a company's intellectual property assets are often more valuable than its physical assets. Consider Coca-Cola's signature bottle or Nike's swoosh. Strategies aimed to maximize the ROI of design efforts by securing comprehensive IP protection, steering clear of the IP rights of others, and integrating IP-building efforts into design processes can be isolated and are of significant value. 

9. Improve Usability: 
Very often, the usability of an interface design is measured by analyzing the efficiency of user navigation through observation, click-through, or interviews. Web sites are constantly monitored for user performance, and most web marketers watch our behaviour closely and make design adjustments to improve performance. All manner of design-based usability issues can be isolated and evaluated. 

10. Improve Sustainability: 
The creative economy is a greener economy, and we all need to help. Designers and design managers have considerable influence in this area. Valerie Casey suggests a Kyoto Treaty for Design featuring collective and individual criteria—the goal being to advance our intellectual understanding of environmental issues from a design perspective. Undoubtedly, design has considerable impact on our environment, and that impact is easily measurable.
Download pdf:


Source: As mentioned in the image.
Download pdf: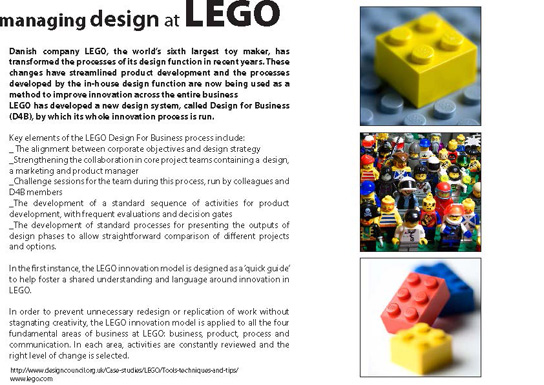 Source: As mentioned on the image.

Design Audits
Design is integral to your business success, aligning products to customer needs, powering your marketing campaigns and ensuring brand recognition. But, how strong is your design? 

Our Design Audit service offers strategic design and brand reviews, evaluating your design strengths and weaknesses, clarifying and nurturing your brand vision for future design direction. We help you understand how design changes influence your brand recognition. We explain how the right customer interaction with your brand is essential for achieving long-term growth objectives [7].

Design audits are carried out to assess the design capabilities of an organisation, to uncover how design is used in support of the vision and values of the brand, the aims and objectives of the business model and organisational aspirations for the future. The audit reviews the use and performance of the design internally and externally to ensure both consistency between what the company (brand identity, vision, ethics) says and what is does (employee behaviour, business practices and methods). The goal of design audit is to examine what design practises can do to increase the responsiveness to a client company's brand, products and services by analysing current marketing plan, business plan and practices, suggesting new operations, technologies and resources to increase you bottom line and support future growth [8].
Measuring Performance [8]
Performance measures are an internal mechanism that organisations use to drive performance through attaining defined targets. They are also used to demonstrate the efficient and effective use of budgets. The goal of measurement performance is to improve internal and external operations of products and services offered to customers. How a company measures success and what is defined as being of value can be very influential on organisational behaviour. Typically what get measure gets done?
Best, K. (2010)
The ideal performance management system is one that energizes the people in an organization to focus effort on improving things that really matter - one that gives people the information and freedom that they need to realize their potential within their own roles and that aligns their contribution with the success of the enterprise.
Traditional financial performance, while important, is not adequate. Though less than precise, other measures of performance are required as they are capable of measuring multiple attributes of an organization.
Comprehensive Performance Measures must address:

1. Financial performance: These measures are essential to summarize the economic consequences of strategy.

2. Customer satisfaction: These measures are essential to identify customer needs and check on the level of customer satisfaction. The customer based measures are Customer Satisfaction, Customer Retention, Customer Loyalty, Image and Reputation.

2. Internal business process developments: Learning and growth identifies the infrastructure an organization must build to create long-term growth and improvement. Growth comes from: people, systems and organizational procedures.

Ways of measuring performance are:

The balanced scorecard is a performance management tool for balancing both short and long-term and financial and non-financial measures. it considers the four perspectives of financial, customer, internal processes and innovation and learning.

Benchmarking is an evaluation method whereby company performance is compared against other industry competitors in similar market.

Triple bottom line accounting defines values and criteria for measuring and balancing economic stability with environmental and social sustainability – people, planet and profit.

Types of performance measures:

Qualitative performance measures:
Aesthetics perceived quality reputation long-term learning and skills development, durability, ergonomics, safety, value for money, awards, peer review, improved brand image, improved product and service quality, improved user experience, better customer service and communication, customer satisfaction, brand awareness.

Quantitative performance measures:
Profit and loss, revenue, cash flow, cash generation, selling cost, share price, payback period, time, customer retention, brand reorganisation, process performance, market share / penetration, royalties, patents, reduces costs/saving, reduced waste, reduced overheads.
Measuring Value in Design [8]

Non-financial measures are especially important in how design is valued by an organisation Measuring the value of design is difficult because its success measurement is more qualitative (improved brand image, increased organisational learning, improved social responsibility and environmental compatibility, etc) than quantitative (profits, direct sale figures, increase in market share, etc). It also quite often provides long term overall benefits than just immediate success.

Awards: The iF concept award uses the following criteria for design evaluation: design quality, degree of innovation, visualisation of use/interface, target-group focus, tasks and objectives, degree of elaboration, social relevance/suitability, environmental compatibility, principal of universal design.

Return on investment: ROI identifies how much profit or cost saving is realised by any project, initiative or resource in which investment is made. ROI is measured financially however, there are new initiatives to extend how return on invest is measured – methods that are more sympathetic to the nature and agendas of design, society and sustainability.

Measuring ROI in design is not easy and in many cases is an imperfect science. Many examples illustrate successful projects in which design has played an integral part, but design is never the only factor, nor are design fees the only investment a company has to make to bring a project to fruition. A packaging project, for example, might involve expenditure on new material, manufacturing processes, and distribution logistics and so on. Additionally, there is a range of other marketing communications channels all requiring budgets and themselves influencing the outcome of a project [9].

Social Return on Investment: SROI identifies how to quantify and monetise social value creation.

Measures of business activity: This includes tracking social outcomes, increase in levels of self-esteem and social support systems, or improvements in housing stability.


References:

[1] Chan, A., Scott, D., and Lam, E. (2002). "Framework of Success Criteria for Design/Build Projects." J. Manage. Eng., 18(3), 120–128. doi: 10.1061/(ASCE)0742-597X(2002)18:3(120).
TECHNICAL PAPERS
[http://ascelibrary.org/doi/abs/10.1061/(ASCE)0742-597X(2002)18:3(120)].

[2] Best, K. (2010). The Fundamentals Of Design Management, AVA Publishing, SA.

[3] Griffin, A & Page, A. (1996) PDMA Success Measurement Project: Recommended Measures for Product Development Success and Failure. Journal of Product Innovation Management, Elsevier Science Inc. Volume 13, Issue 6, pages 478–496, November 1996. DOI: 10.1111/1540-5885.1360478.
[4] http://www.emeraldinsight.com/journals.htm?articleid=849284&show=abstract

[5] Lockwood, T. (October 05, 2009) Ten Ways to Measure Design's Success [Thomas Lockwood is a design industry analyst, and President of DMI, the Design Management Institute. A former design director at Sun Microsystems, he is one of the few people in the world with a PhD in design management].

[6] ibid

[7] http://www.designaudit.co.uk/designAudit.htm

[8] Best, K. (2010). The Fundamentals of Design Management, AVA Publishing, SA.