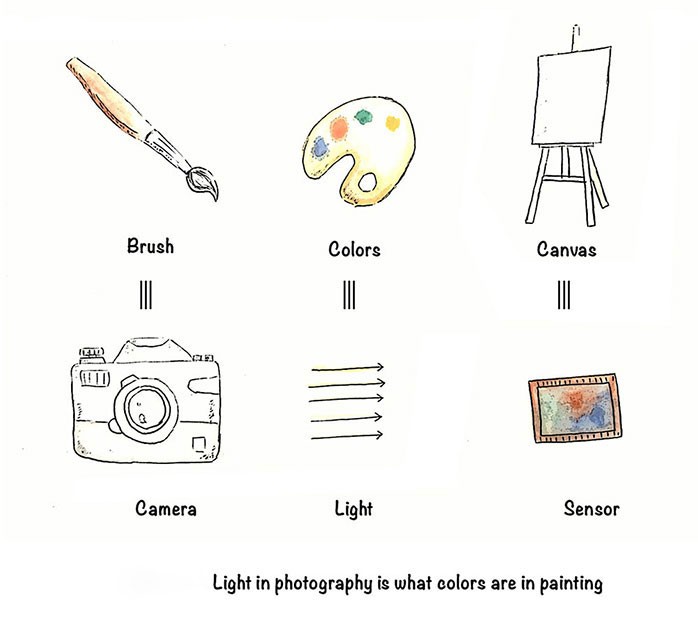 A.  Reflection/ Refraction/ Absorption

When Light Strikes
The colour of the objects we see in the natural world is the result of the way objects interact with light. When a light strikes an object, it can be absorbed, reflected, or transmitted by the object. All objects have a degree of reflection and absorption. It is due to selective reflection and sometimes due to transmission that gives colour to different surfaces.
All three of the properties have different use in photography industry. Reflection amounts to the ambient nature of natural light. Sun is the only major source in nature but most surfaces reflect light that comes from sun acting as pseudo-sources. It is also used in making reflectors, is the basis of how we see colours and used in bounce off flash. Transmission is the basis of making equipments like diffusers, filters and gels. Absorption is mainly used to block light for subtractive lighting.
In natural world, light can also be transmitted by an object with no effect (example: X-rays) however they have no visual effect so no worries.




Reflection
Reflection most common and most used property of light. One of the most common use is when flash light is bounced off the ceiling or a wall to obtain a diffused soft light on the subject. For photography purposes we can classify it into two broad categories: regular reflection and diffuse reflection.
Reflection on a SmoothSurface (mirror)
Light bounces off the surface of a material at an angle equal to the angle of incoming light wave. Example : mirror or glass
Scatter or Diffuse Reflection (reflection on a rough surface)
Light waves bounce off at many angles because the surface is uneven. Example : earth (that is why sky is blue)




Absorption
Light stops at the object and does not reflect or refract. Objects appear dark or opaque. The energy thus absorbed manifests as heat. Absorption is useful in subtractive lighting techniques. Example : Wood
 


Transmission
Transmission is when light passes through the surface. Filters or gels work on selective transmission.
Direct Transmission
When light goes through an object and no change in direction or quality takes place. For example - glass or air
Diffuse Transmission
When light goes through a transparent or semi-transparent object with texture. Example : frosted glass
Light will be softer, less contrast, less intensity.
Selective Transmission
When light goes through a coloured object. A portion will be absorbed and another portion will be transmitted through this object.
 


Refraction
Light goes through the object and bends at an angle. Example : diamond (greater angle) or water (lesser angle)




B. Inverse Square Law
Intensity of a point source of light is inversely proportional to the square of the distance. In simple terms if we double the distance, the intensity of light drops to 1/4th. The effect of this law is not particularly visible in sunlight but it is very apparent while using artificial lights especially in studio. Generally speaking it means that light falls off drastically with distance. So while using flash and other artificial sources, distance matters a lot.




C. Color Temperature
The temperature at which a black body would emit radiation of the same colour as a given object. In simple language, colour temperature is the colour of the light. It depends on the source of the light that is producing it.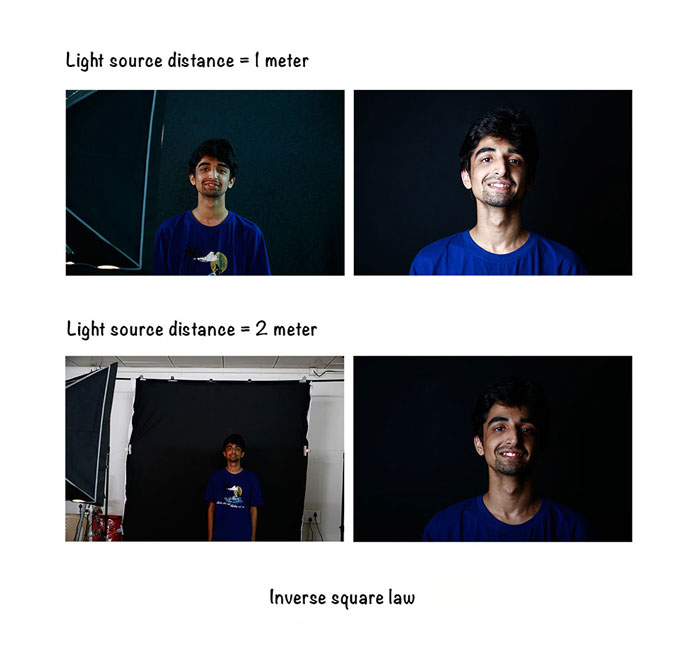 White Balance
When the source of light is not completely white, the whites in the image comes out tinted. For example, a white paper will look yellow in a yellow tungsten light. White balance is adjusting the setting in the camera to compensate for the coloured light. So as the name suggests it is adjusting to get the right white.
In most of the cameras there are in-built presets for different type of common lights like tungsten, flash, shade, daylight etc. Sunlight is neutral with a temperature of  around 5500K, the temperatures below it contains warm tones (red, orange, yellow) and the temperatures above 5500K belongs to cool tones (blue, magenta)


D.  Colour
Light consists of seven different colours. When all the different wavelengths belonging to different colours combine, it produces white light. Colour as we see in universe is the result of selective reflection and selective transmission of light. It is in principle effect of the light waves that come from the object to our eyes. These waves can be the result of reflection, transmission or maybe the object is the light source. So that is it we see colours in object due to the light waves coming from them.
E.  Quality of Light
Relative size of the light source with respect to subject renders the light source as hard/soft. Hard light has more contrast, accentuate the texture and gives a more decisive feel in the photograph. Soft light in turn has less contrast, it makes the surface look smooth and gives a more moderate feel. In a way you can see hard light as black/white and soft light as the mid-tones between the extreme blacks and whites of hard light. Diffused light is soft light as light scatters and effective size of light source increases.
Soft Light
Create soft shadows
Difficult to control as it is not that focused and light spills in all directions
Presents form through a range of tones
Hard Light
Create harsh shadows
Accentuate textures
Easy to control and shape as it can be easily directed


F.  Natural Light and Artificial Light
Although the characteristics of light as an electromagnetic wave don't change whatever the source, for practical purposes in photography we make the distinction of natural/artificial light. In general terms the light from sources not made by mankind is termed as natural light and light from sources which are constructed by human beings is termed as artificial light.

Two most visible differences between natural and artificial light are:
1. The nature of fill
2. The rapid fall-off in intensity
In natural light sun is the only source but it bounces off from so many surfaces resulting in a wrap-around lighting. So sunlight behaves more like a Omni-directional light as compared to
artificial light Which is much directional. Due to inverse square law all light should fall with distance but due to the distance of sun and earth, any small increment we do on earth is negligible.
G. Polarisation
Light exhibit the behavior of both a particle and a wave. As a wave phenomenon a light wave can have vibrating waves in all directions, horizontal, vertical and in between. When reflected from a flat surface like water, most of the light aligns in one particular plane. This is known as polarised light. Polarisation property is used in making polarising filters which cancels light coming from a particular direction. It reduces glares coming from flat surfaces, thus making colours like blue in sky more dominant.