Traditional Forms of Ganesha – (Forms in 2D)
Ganesha, the Lord of beginnings, is present everywhere; in our culture, in the physical universe and within our hearts, and acts as a guiding force. His presence can be equally felt in the consecrated temple or a roadside shrine, from which his grace radiates. It is believed that Ganesha's being is so vast that he cannot be contained by any single concept, and therefore He is portrayed in many forms. He is each of them, and He is all of them.

Through the centuries Ganesha has been known not just by one name but by numerous ones. Each of these names was interpreted as a different form. Some of these traditional forms that are indicated in the sacred Hindu texts are a record of the initial belief system. These are in a way the very foundation for the evolution of the aesthetic exploration of the Ganesha forms. Ganesh is a primordial God whose form has evolved and transformed over space and time, and this is very visible in all dimensions and mediums in this modern day.

The multiple traditional representations of Ganesha's form, with evolving aesthetics are what are briefly presented in this form exploration.

Like Lord Vishnu's 10 avatars, Ganesha Purana indicates four avatars of Ganesha, each in one of the four yugas. These forms were taken to slay the demons while riding a lion, a peacock, a rat, a horse in each yuga.

* He is described as Vighneshvara, the Lord of Obstacles. Ganesha is so called as he can   create difficulties and obstructions if the time is wrong for one to proceed and remove the   same obstacles when success is assured. It is to this form of Ganesha -Vighneshvara that   one bows down to before undertaking any task.

* He is described as Ekadanta, the Single-Tusked One. Ganesha is the Patron of Literature   who, He undertook to scribe the great epic, Mahabharata, dictated to Him by sage Vyasa.   The lesson he offers here is that knowledge and dharma are of utmost importance in one's   life.

* He is described as Siddhidata, Giver of Success. Ganesha is the associated with bountiful   harvests and abundance in life. Ganesha is believed to be the material manifestation of the   manas, or mind, of Lord Siva, and that He embodies the five elements -- earth, air, fire,   water and ether -- and guides the elemental forces that produce and maintain order in the   universe.


The 8 avatars of Ganesha:
The "Mudgala Purana" (an ancient text on Lord Ganesha) cites eight forms of Ganesha, to destroy eight demons each representing human weaknesses.

1. Ekadanta means God with one tusk. He conquers Mada, the demon of vanity while riding the rat.

2. Dhumravarna means smoke coloured God. He conquers Ahamkara, the demon of arrogance, while riding a rat.

3. Vakratunda means God with a curved trunk. Ganesha vanquishes Matsarya, the demon of jealousy, while riding the lion.

4. Mahodara means God with a big belly. Ganesha is Lord of Moha, the demon of attachment,while riding a rat.

5. Gajanana means God with an elephant face. Ganesha conqueres Lobha, the demon of greed while riding a rat.

6. Lambodara means God with a corpulent belly. Gan ssesha vanquishes Krodha,the demon of    anger or rage, while riding a rat.

7. Vikata means God with a deformed body. Ganesha overpowers Kama the God of lust, while riding a peacock.

8. Vighnaraja means the King of Obstacles. Ganesha conqueres Mama,the demon of self ;indulgence.


16 Divine forms of Ganesha --Shodasha Ganesha

Lord Ganesha is also depicted in 16 different forms namely--Bala, Taruna, Bhakta, Veera, Shakti, Dwija, Siddhi, Ucchishta, Vighna, Kshipra, Herambha, Lakshmi, Maha, Vijaya, Nritta and Urddhva Ganapatis.

These 16 forms were later logically associated with the various lunar days ( thithis) starting from Amavasya (New Moon day). On the new moon day, the Bala Ganesha (Child Ganesha) was propitiated, the next day, when the moon is seen as a very thin crescent, he is called Taruna Ganesha, and so on.

There is also a hymn called Ganapati Shodasa Nama Stotram in the 24th Prakarana of Upasana Khanda of Ganesh Purana. This hymn praises the 16 names of Lord Ganesh.


32 Forms of Ganesha:
A comprehensive list of all the images of the Hindu Gods worshipped was created by the court scholars of the King of Mysore of the Wodeyar dynasty in the 19th century in Karnataka. The Maharaja was a great patron of art and learning. This compilation is known as Sri-tattva-nidhi. This is written in Kannada. The first page of the Sri-tattva-nidhi attributes authorship of the work to the Maharaja himself.

The Maharaja funded an effort to put together in one work all available information concerning the iconography of divine figures in South India. He asked that a vast treatise be written, which he then had miniaturists from his palace to illustrate it. This describes the several forms of Shiva, Vishnu, Skanda, Ganesha, different goddesses, the nine planets (Navagraha), and the eight protectors of the cardinal points. This work is in nine parts, 1.Shakti nidhi, 2.Vishnu nidhi, 3.Shiva nidhi, 4.Brahma nidhi, 5.Graha nidhi, 6.Vaishnava nidhi, 7.Shaiva nidhi, 8.Agama nidhi. Each is called a nidhi or a treasure.

There is a mention of the 32 forms of Ganesha in this compilation with relevant images. These images are the ones that the artisans found being worshipped in the various temples and households in the kingdom.

A few of them in the original format are shown below.




The 32 forms of Ganesha as indicated in the Sri-tattva-nidhi are represented below.

1.Bala Ganapati:
Bala Ganapati is "the childlike" Ganesha of golden hue. He holds a banana, mango, sugar cane and jackfruit in his hands, all representing the earth's abundance and fertility. In his trunk is the modaka his favorite sweet.



2.Taruna Ganapati :
Taruna Ganapati, is the eight-armed, youthful Ganesha. He is in a brilliant red colour that reflects the blossoming of youth. He holds a noose and goad, modaka, wood apple, rose apple, his broken tusk, a sprig of paddy and a sugar cane stalk in his eight arms.



3.Bhakti Ganapati:
Bhakti Ganapati means the devotion worthy Ganesha. He is dear to the devotees, is pleasant to look upon, like the shining full moon during harvest season and is garlanded with flowers. He holds a banana, a mango, coconut and a bowl of sweet payasa (milk pudding) in his hands.



4.Vira Ganapati:
Vira Ganapati means the valiant warrior. Ganesha assumes a commanding pose in this form. His 16 arms hold weapons: a goad, discus, bow, arrow, sword, shield, spear, mace, a battleaxe, a trident and more. This indicates the symbols of the mind powers



5.Shakti Ganapathi:
Shakti Ganapati is the powerful Ganesha with his strength seated in female form on his left lap. He is of orange-red hue, and guards the householder. He has his four arms and holds a garland, noose and goad, and bestows blessings with the abhaya mudra.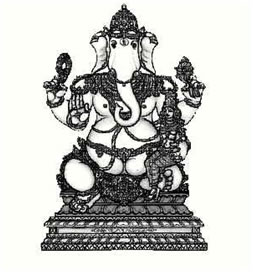 6. Dvija Ganapati:
Dvija Ganapati, means twice-born or student Ganesha. He is moon-like in colour. He is four-headed, holding a noose, a goad, an ola leaf scripture, a staff, water vessel and his japa beads. In this form he reminds one and all of the importance of disciplined striving.



7. Siddhi Ganapati:
Siddhi Ganapati, means the accomplished Ganesha. He is golden-yellow in colour and is the epitome of achievement and self-mastery. In this form he sits in a comfortable posture, holding a bouquet of flowers, an axe, mango, sugar cane and, in his trunk, a sesame sweet.



8.Ucchhishta Ganapati:
Ucchhishta Ganapati is the Ganesha who accepts offerings and is also the guardian of culture. He is six-armed, and of blue complexion. He sits with his Shakti, holding a veena, a pomegranate, a blue lotus flower, japa mala and a sprig of fresh paddy in his hands.



9. Vighna Ganapati:
Vighna Ganapati, means the obstacle removing Ganesha. In this form he is of a brilliant gold hue and bedecked with jewels. His eight arms hold a noose and goad, tusk and modaka, conch and discus, a bouquet of flowers, sugar cane, flower arrow and an axe.



10. Kshipra Ganapati:
Kshipra Ganapati, means the quick-acting Ganesha. He is red-hued, and handsome in this form. He is also the giver of boons, displays his broken tusk, a noose, goad and a sprig of the kalpavriksha (wish-fulfilling) tree. In his trunk he holds a small pot of precious jewels.



11. Heramba Ganapati:
Heramba Ganapati, means a fierce Ganesha and a protector of the weak. Ganesha in this form is five-faced and white in colour. He rides a big lion. In his hands he holds a noose, japa beads, axe, hammer, tusk, garland, fruit and modaka and they also indicate protection and blessings to devotees by gestures.



12. Lakshmi Ganapati:
Lakshmi Ganapati means Ganesha with the goddess of wealth. He is pure white in colour and a giver of success, and achievement. His hands gesture the varada mudra, while in the rest he holds a green parrot, a pomegranate, sword, goad, noose, sprig of the kalpavriksha and a water vessel.



13. Maha Ganapati
 Maha Ganapati means the great Ganesha. He is accompanied by one of his shaktis and is red-complexioned and possesses three-eyes. In his hands he holds his broken tusk, a pomegranate, blue lily, sugar-cane bow, discus, noose, lotus, paddy sprig, mace and a pot of gems.



14. Vijaya Ganapati
 Vijaya Ganapati means the victorious Ganesha and a bestower of success. In this form he is four-armed and red hued and riding the rat or the mushika. In his arms he holds the broken tusk, elephant goad, a noose and a golden mango.



15. Nritya Ganapati
Nritya Ganapati, means the dancing Ganesha. He is four-armed and golden in colour, with rings on His fingers, holding a tusk, goad, noose and the modaka sweet. He dances under the kalpavriksha tree, in exuberance and joy.



16. Urdhva Ganapati
Urdhva Ganapati means the restrained Ganesha. He is of a golden hue in this form and in his six hands he holds a sprig of paddy, a lotus, the sugar cane bow, an arrow, his ivory tusk and a blue water lily.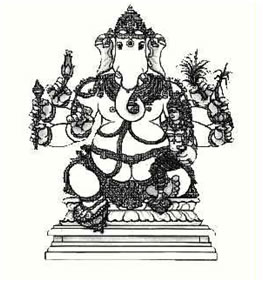 17. Ekakshara Ganapati
Ekakshara Ganapathi means Ganesha of the single syllable (gam). He is of red complexion and has a crescent moon on his crown. He sits in the lotus pose upon Mushika, or the rat and holds a pomegranate, noose and goad in his hands. His hands also indicate the boon-giving gesture.



18. Varada Ganapati
Varada Ganapati, means the boon bestowing Ganesha. In this form the prominent third eye of wisdom is visible on the forehead. His shakti is at his side, and a crescent moon adorns his crown. He holds a dish of honey, the noose, goad in his hands and encloses a pot of jewels in his trunk.



19. Tryakshara Ganapati
Tryakshara Ganapati, means the three syllable (A-U-M) Ganesha. He is gold in colour and has fly whisks in His big ears. He carries the broken tusk, goad, noose and mango in his hands. In his trunk he holds a sweet modaka.



20.Kshipraprasaada Ganapati
Kshipraprasaada Ganapati, means the quick rewarding Ganesha. He is seated on a kusha-grass throne. His big belly symbolizes the manifest universe. In his hands he holds a noose, goad, tusk, lotus, pomegranate and a twig of the wish-fulfilling tree in this form.



21.Haridra Ganapati
Haridra Ganapati, means the golden Ganesha. In this form he is dressed in bright yellow vestments. He wields a noose to hold devotees close and a sharp goad to spur them onward.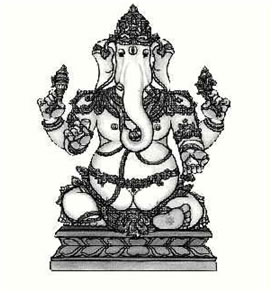 22. Ekadanta Ganapati
Ekadanta Ganapathi means Ganesha of a single tusk. In this form he is distinguished by his blue colour and a sizeable belly. He holds in his hands in this form an axe for cutting the bonds of ignorance, prayer beads for japa, a laddu sweet and the broken right tusk.



23.Srishti Ganapati
Srishti Ganapati means the cosmic Ganesha. He is of red complexion in this form and holds a noose a goad, a mango, and his tusk, in his hands. He is also shown riding on his docile and friendly mouse.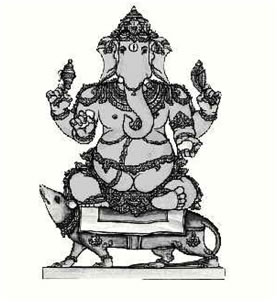 24. Uddanda Ganapati
Uddanda Ganapati means Ganesha as the enforcer of Dharma or the disciplinarian. In this form his ten hands hold a pot of gems, a blue lily, sugar cane, a mace, lotus flower, sprig of paddy, a pomegranate, noose, garland and His broken tusk.



25.Rinamochana Ganapati
Rinamochana Ganapati means the debt redeeming Ganesha. He is humanity's liberator from bondage and guilt. He bears a noose and a goad, his milk-white tusk and a favourite fruit, the rose apple in his hands.



26.Dhundi Ganapati
Dhundi Ganapati, means the sought after or the desired Ganesha. He holds a strand of the sacred rudraksha beads, his broken tusk, an axe and a small pot of precious gems thought to represent the treasury of awakenings in his hands in this form. He is red-hued in this form.



27. Dvimukha Ganapati
Dvimukha Ganapati,means the two headed Ganesha. This form is also called Janus by the Romans, with two divergent faces, sees in all directions. His blue-green form is dressed in red silk. He wears a bejewelled crown and holds a noose, goad, his tusk and a pot of gems in his hands.



28. Trimukha Ganapati
Trimukha Ganapati, means the three headed Ganesha. He gestures protection with his right hand and blessings with his left.In this form he is of red hue, and sits on a golden lotus, holding his beads, a noose, goad and vessel of nectar in his hands.



29.Simha Ganapati
Simha Ganapati, means lion riding Ganesha. In this form he is white in colour, rides a lion, symbolizing strength and fearlessness. He also holds a kalpavriksha sprig, a veena, a lotus blossom, a flower bouquet and a pot of jewels in his hands.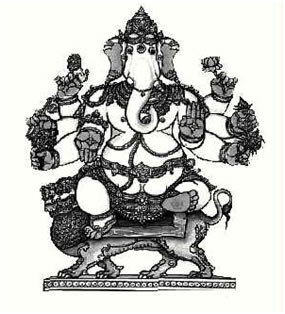 30. Yoga Ganapati
Yoga Ganapati means Ganesha as a yogi. His knees strapped in a meditative pose, and he is absorbed in mantra japa. In this form his hands hold a yoga staff, sugar cane stalk, a noose and prayer beads. Blue garments adorn his form which is like the colour of the morning sun.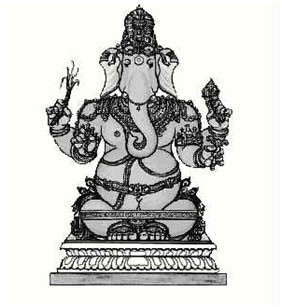 31. Durga Ganapati
Durga Ganapati, means the invincible Ganesha. He waves the flag of victory over darkness. In this form he is of a deep gold hue, dressed in red, holding a bow and arrow, noose,  goad, prayer beads, broken tusk and a rose apple in his hands.



32. Sankatahara Ganapati
Sankatahara Ganapati, means Ganesha as the dispeller of sorrow. In this form he is the problem solver of the devotees. He is dressed in blue, and seated on a red lotus flower. He holds a bowl of pudding, a goad and a noose in his hands while gesturing the boon-granting varada mudra too.


The Ganesha's distinctive features –his stomach, his arms and what he holds in them, his elephant shaped head, his body colours, his tusks, the vahana or vehicle he sometimes rode all are an integral part of his form.But it is the variations of these elements and his postures that lead to the creation of different graphical illustrations presented in the above 32 different forms.

Ganesha's belly is one of the most important elements in his form that is responsible for his identity.Because of his large belly he is called Lambodara (literally means pot belly), and Mahodara (great belly). His belly is supposed to hold the past, present, and future or the entire universe. The number of Ganesha's arms varies and his best-known forms have between two and sixteen arms. Many depictions of Ganesha feature four arms, which is mentioned in Puranic sources and codified as a standard form in some iconographic texts. The serpent is a common feature in Ganesha iconography and appears in many forms-wrapped around his stomach as a belt, as a yagnopavita or the sacred thread, held in his hand, coiled at the ankles or as a throne.

Ganesha's forehead too carries symbols like the tilaka consisting of three horizontal lines and or along with a crescent moon, or the third eye, as iconographic elements in the different forms.

Many examples of colour associations with specific meditation forms of Ganesha are described in the Sri-tattva-nidhi. For example, white is associated with his representations as Heramba Ganapati and Rina Mochana Ganapati or Ekadanta Ganapati is visualized as blue during meditation in that form.

The Vahanas or the vehicles used by Ganesha as indicated in the Mudgala Purana are mouse (shrew), a lion, a peacock and Shesha, the divine serpent. The four incarnations of Ganesha listed in the Ganesha Purana, Mohotkata in the Krita Yuga has a lion, Mayuresvara in the Treta Yuga has a peacock, Gajanana in the Dvapara Yuga has a mouse and Dhumraketu in the Kali Yuga has a horse. Jain depictions of Ganesha too, show his vahana variously as a mouse, elephant, tortoise, ram, or peacock.

Ganesha is often shown riding on or attended by a mouse, or a rat. The names Musikavahana (mouse-mount) and Akhuketana (rat-banner) appear in the Ganesha Sahasranama. The mouse is interpreted in several ways- as a symbol of tamoguna as well as desire, or it symbolizes those who wish to overcome desires and be less selfish, or that the rat, a type of vighna (impediment) needed to be overcome and subdued as a destructive pest. Ganesha as master of the rat demonstrates his function as Vigneshvara (Lord of Obstacles) and like the rat he is considered capable of penetrating the most secret places.
Thai artist Mr. Choosak Vissanukamron has created a book that carries coloured paintings of the 32 forms of Ganesha. This book is in the Thai language. This indicates an example of the modern day presentation of a traditional concept .This can be accessed at the following link
(Book source)


Traditional symbolic representations of Ganesha :
Pillaiyar Suzhi:
Interestingly Ganesha is known as 'Pillaiyar' in Tamil Nadu, and he is symbolized by the "Pillaiyar Suzhi" . This is written first before writing anything on paper. This basically comprises of a part of a circle curving into a straight line, with two lines beneath it and a dot below all this. This is a very simple symbol to represent Ganesha. Before starting anything new, (especially students) draw this symbol at the beginning of their answer papers, in the hope to do well in their exams. This symbol is similar to the practice of writing "Shri" before starting anything in North India. By the use of these symbols of Ganesha, the belief is that one is ensuring the absence of obstacles in the activity leading to a successful completion. 


Pillayar Suzhi 



"Shri" 



A "Shri" styled to represent Ganesha

Ganesha Yantra:
Yantra is a geometrical representation of Hindu God. Different deities have different yantras. Yantras consist of geometric shapes - circles, squares, triangles, and dots known as bindus. The circles represent nature, squares represent culture, downward pointing triangles refer to material reality and the upward pointing triangle and dots refer to the spiritual reality in the Yantra principle.


Ganesha Yantra (Image source)

All Yantras are usually contained in a square with four T-shaped gates( this means a Bhupura or the worldly realm) A circle is inscribed inside this square and is followed by 8 lotus petals emerging from another smaller circle within. Within this are the patterns which differ for each God.

In the Ganesha yantra, the final inner circle contains
• an upward pointing triangle
• a downward pointing triangle, and an upward pointing triangle placed in away to create a six   pointed star
• a dot or a bindu

The geometrical forms in the Ganesha Yantra indicate that this is more related to spiritual reality than material reality. This indicates that Ganesha is a householder God with leanings towards asceticism.

These Yantras are available printed on paper or as paintings or also as embossed patterns on thin copper sheets. The Ganesh Yantra in any of these forms is framed and placed in appropriate places at homes, offices, business establishments,or temples.


Ganesha Yantra embossed on a copper sheet. (Image source)

The Ganesha Yantra is believed to be a sacred energy device that radiates positive energy which infuses within one the power to focus and successfully accomplish all goals.

Ganesha is given the foremost privilege in all the divine rituals of being invoked first. The belief is that fervent prayers to his Yantra will bring about positive reverberations into one's life and living space. The use of such Yantras is recommended when one is planning to undertake a new business venture or is stepping into a new phase of life. The Ganesh Yantra would help to curb all the impediments that could block the way and also to ward off negative influences and achieve success.

There are some guidelines in using these Yantras. As it is believed to be a cosmic conductor of energy, it is recommended that it be placed in an altar or shrine facing the East or the North. Like how the Hindus perform puja after the daily bath the Yantra too is to be worshipped with flowers, sandalwood paste, and also offering a lighted lamp or a lighted incense stick. The eyes and mind are to then focus at the centre of the Yantra and chant a Ganesh matra like "Om Gam Ganapathaye namaha" for say 108 times to achieve higher levels of consciousness.

Ganesh Yantras are also available as pendants, in copper, silver, gold, ceramic, or wood to be worn on a person. These are popular because of their significance and the strong belief that people have in Lord Ganesha.


(Image source) 


(Image source)


(Image source)