Ganesha's significance has been slowly increasing since the Vedic times. He has been transformed through time and history and has risen to his present stature in these modern times. Just as there has been an exhaustive exploration of Ganesha in products, in the literary world too one sees Ganesha being presented in many formats. There are books that explore his philosophical nature, his spiritual side, his charming stories, deep routed myths, etc.

He has inspired the creation of a vast range of books which at one end cater to the deeply spiritual and on the other end educate and entertain young children! This is how this beloved God is covered in the entire spectrum of topics. He is presented as benevolent, glorious, wise, bountiful, adorable, and is a popular subject not only in India but in many Western literary circles too.

There exists a selection of wonderful books on Ganesha that apart from being informative and interesting to a devout follower, help introduce a novice to Hinduism through Ganesha.


Ganesha literature during early ages
It is in the Puranas, Upanishads and the Vedic lore that one learns of Ganesha's significance and spiritual importance in the early ages.

Ganesha Purana : This is a text that chronicles the tales and the methods of worship of Ganesha. Its origins are believed to be between the 10th and 15th century AD. This purana is presented in two parts. The first is the Upasana- Khanda which contains the details on how to express devotion to Ganesha. The 1000 names of Lord Ganesha known as the Ganesha Sahastranama (that is often chanted in the temples) is found in this part. The second part is the Krida –Khanda that narrates the tales of Ganesha.
Apart from these two parts, this purana also contains the Ganesha Gita and the description of the four avatars of Ganesha in the four yugas.

Ganesha Gita: This literary work is very similar to the famous and popular Bhagavad Gita, where Lord Krishna gives a discourse to the brave Pandava Prince Arjuna. Ganesha Gita is a record of a similar discourse between Gajanan- an avatar of Ganesha and the king Varenya.

Mudgala Purana: This is a Purana of Lord Ganesha similar to the Ganesha Purana. Scholars date this purana to the 10th – 15th century AD. This purana also seeks to establish Ganesha as the Supreme Being. The eight incarnations of Ganesha are described here and these are very different from the Ganesha Purana in both content and form.

Ganesha Atharvasirsha Upanishad: Also known as the Maha Ganesha Upanishad was created and popularised by the followers of the Ganpatya cult in Maharashtra. Ganesha is identified here as the Supreme Being. This is one of the 108 Upanishads in which Ganesha is the form given to the formless divine entity. This Upanishad has its origin in the Atharva Veda. In the early 18th century, there were other Ganesha Upanishads like Ganeshottaratapini Upanishad, Ganeshapurvatapini Upanishad which had similar themes.

Ganesh as the Scribe: Ganesha is accepted as the god of learning and the Patron Deity of letters and scriptures. The first section of the Mahabharata states that Sage Vyasa narrated the Mahabharata and Ganesha wrote it down. The longest epic in the world Mahabharata was not the job for an ordinary scribe and therefore Sage Vyasa requested Ganesh to become his scribe. Ganesha is said to have agreed to write it only one condition that Sage Vyasa never pause in his recitation. The wise sage agreed; with a counter condition that Ganesha had to understand perfectly what was dictated before writing it down. It is also believed that Ganesh's mother Parvati, advised him to use his "buddhi" or intellect while writing it, so that the message of the epic Mahabharata would be relevant to generations to come.


Another legend associated with Ganesha writing the Mahabharata is that of the broken tusk of Ganesha. After some days of writing the Mahabharata, it is believed that the stylus used by Ganesha broke and as he could not stop the writing, he broke off one of his tusks and started writing with it. This symbolically stands for the fact that any amount of sacrifice is not too much to gain knowledge.


Ganesha literature in the present day
Apart from the literature on Ganesha during the early ages the literary exploration on Ganesha has continued till the present day. Since Ganesha is one of the most popular gods of the Hindu pantheon, many authors have explored his vast being and presented their understanding in the form of many books. There is a section of books which delve into Ganesha's spiritual as well as philosophical side adding to the knowledge on Hindu mythology and Indian culture.
Some books on Ganesha have more visual content in the form of superb illustrations, paintings and/or photographs of the beloved god, like the one presented below.
Ganesha. Published by KGM International

Some coffee table books carry excellent photographs of Ganesha idols from museums and personal collections. These books are admired and are prized possessions.
There are also books which entertain through charming stories and deep routed myths about Ganesha and promise to be an interesting read. A few examples are presented below.

"Loving Ganesa" by Satguru Subramuniyaswami


(Image source)
This is an elaborate book about Ganesha, subtitled "An Illustrated Resource on Dharma's Benevolent Deity, Remover of Obstacles, Patron of Art and Science, Honoured as First Among the Celestials", written by the late Gurudeva of Hawaii - Satguru Subramuniyaswami. This book covers Ganesha's powers, pastimes, mantras, nature, science, forms, sacred symbols, and much more. It also filled with numerous illustrations related to Ganesha.

"Ganesha: The Auspicious..." by Jagannathan & Krishna


(Image source) 
This is a well-researched volume that is equally appealing to the layman, the scholar and the devotee. It is illustrated with a number of photographs and line drawings of Ganesha. This comprehensive book covers all aspects of Ganesha, bringing out the relevance and importance of Ganesha from ancient times to the present day, covering historical and archaeological evidence, legends and parables, imagery and symbolism; thus forming an interesting read.

"The book of Ganesha" by Royina Grewal. Published by PENGUIN BOOKS


In this thoroughly researched and delightfully narrated book, Royina Grewal presents many stories of Ganesha, exploring their significance and how they reflect the times and the cultures during which they originated. Every aspect of Ganesha - be it his extraordinary birth, his elephant head, his broken tusk, his vehicle (the mouse), his appetite, his anger, are scores of myths, each more colourful than the other. These are presented in this book.

"99 Thoughts of Ganesha" by Devdutt Pattanaik. Published by JAICO


This is one of the latest books on Ganesha by an Indian physician turned author, mythologist, and Chief Belief Officer of the Future Group, Dr. Devdutt Pattanaik. He has written and lectured extensively on the nature of sacred stories, symbols and rituals and their relevance in modern times.
This book puts forth stories, symbols and rituals of India's beloved elephant-headed deity which help understand Ganesha better.

The book is divided into twelve parts covering many areas like the importance of Ganesha in family, festivals, stories, symbols, temples etc. The book also attempts to provide answers to questions like why a snake is coiled around Ganesha's stomach or neck, why Ganesha is always riding on or accompanied by a rat, why Ganesha is fond of modaka as a sweet in particular, why blades of grass, known as Dhurva form a critical ingredient for Ganesha worship, why devotees of Ganesha avoid looking at the moon on the days that he is worshipped, why the word 'Shri' is seen on top of wedding cards even today and its significance, etc.

The reason behind the name of the book "99 thoughts" is related to the game of cricket by the author as this-- having scored 99 runs, when a batsman stands all set to get that one run to gain the century mark, he experiences the moment that is best associated with Ganesha.
A few more books on Ganesha are listed below:
Ganesha-Karttikeya, by Ashish Khokar and S. Saraswati. Published by Rupa. Co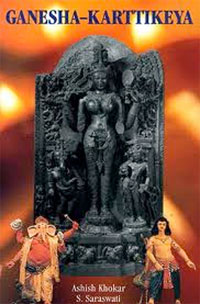 (Image source)

Ganesh – Studies of an Asian God, by Robert L. Brown. Published by Sri Satguru Publications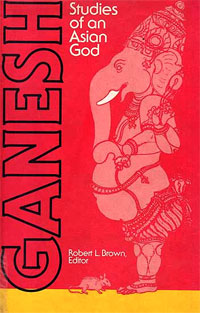 (Image source)

Ganesa (Ganesha) Unraveling an Enigma by Yuuraj Krishan. Published by Motilal Banarsidas Publishers Pvt. Ltd.


(Image source)

Sri Ganesha (With Sculpture) by M.L. Varadpande. Published by Abhinav Publications


(Image source)
Books on Ganesha for children
There is a category of books for the young reader, where Ganesha is presented as a friendly lovable character, with charming illustrations. Thus Ganesha is introduced to readers at an early age in appropriate ways which captivate and also convert one into a believer.
Some of these books are collaborations between Indian and Western authors indicating the fascination of Ganesha to be relevant all over the world. This also indicates that the Western world thinks acquiring knowledge on Ganesha even for young children, to be quite important !

A few examples of the genre are presented below:
"GANESHA- the remover of all obstacles" by AMAR CHITRA KATHA:
This is an illustrated picture book on Ganesha, his origin and his emergence as the elephant- headed god of wisdom.
This book is a part of the very popular series in India since 1967, which through their numerous titles spanning Indian mythology, classics, epics, brave hearts, visionaries, fables and many other categories, gives a glimpse of India's glorious heritage.
These picture books are an interesting read, especially for the young reader who gets captivated by the illustrations as much as the story. Amar Chitra Kathas have been an integral part of many Indian children's early years, inculcating reading habits and the desire to learn more about our roots.


"The Elephant Prince - The Story of Ganesh".Published by Mandala Publishing


(Image source)
This book answers the question as to why Ganesha has the head of an elephant. Ganesha, with a large belly, mischievous and sweet, is one of the most familiar gods. The story is set in the Himalayas amongst all the other gods and goddesses. Elephant Prince tells the story of a remarkable bond between a mother and her son, a remorseful god, a generous elephant and the boy who became Ganesha. The book has illustrations that resemble classic Indian miniature paintings and complement the story. Also this story is simple enough to be read aloud to children.

"Little Heroes – Ganesha" by Tapasi De. Published by Mind Melodies


(Image source)
This is a compilation of the different popular stories of Ganesha. This series of books introduces important personalities from the Hindu religion to children.

"Ganesha's sweet tooth" by Sanjay Patel and Emily Haynes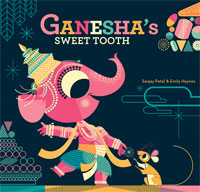 (Image source)
This book is about how Ganesha came to write the epic poem of Hindu literature, the Mahabharata. This being a book for children, Ganesha is depicted just like any other kid, except that he has the head of an elephant and rides around on a magical mouse. The story is about how Ganesha's love for sweets, especially the laddoo that leads to the breaking of his tusk while biting into a super jumbo jawbreaker laddoo. The upset Ganesha learns from the wise poet Vyasa, that what seems broken, that is the tusk, can actually be quite useful after all to pen the Mahabharata. This book is full of vibrant, graphic illustrations, expressive characters that appeal to a child while wonderfully depicting a classic tale.
There are many other books for children with Ganesha as the central theme like the "The Broken Tusk" by Uma Krishnaswami, Maniam Selven, "Ganesha", by Namita Anand etc.,

"The Broken Tusk" by Uma Krishnaswami, Maniam Selve:


(Image source)
This is a collection of Hindu mythological tales for young readers. There are 17 stories about Ganesha - 'Ganesha's Head,' 'The Broken Tusk,' and 'Why Ganesha Never Married' - including one from Mongolia, where Ganesha entered the Buddhist tradition.This book also includes a pronunciation guide, glossary, and a prefatory discussion on Hindu mythology which are very useful for non-Hindus to understand. The pen-and-ink illustrations also add an angle of entertainment while reading this book.

"Ganesha", by Namita Anand from Scholastic Publishers: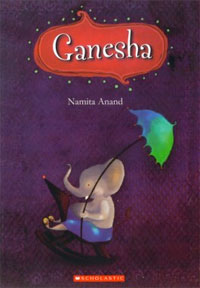 (Image source)
carries new and wonderful stories of the popular god, which cover ideas as to what happens when Ganesha refused to share a laddoo, or how one can please Ganesha by doing a hundred push-ups every day etc., Ten wonderful tales of Ganesha, are retold in this book in a fun and readable style for children.
Blogs related to Ganesha
Apart from books, the latest medium of expression namely the internet has its own share of e-books on Ganesha, blogs, social networking sites (like Face Book) with dedicated pages on Ganesha. These blogs are created by people who have immense devotion to Ganesha and want to gather as much knowledge as possible about this dear god and also to spread the same amongst all Ganesha devotees.

Most of these blogs carry images, wall papers and articles from various sources related to Ganesha. Some of them also provide useful information about Ganesha literature, mantras, Ganesha stuti ,Ganesha names, pooja, prayers, Ganesha Chalisa, yantra, songs, videos on Ganesha, temples of Ganesha in and around various regions, apart from providing interesting information on Ganesha festivals, idols, and his family.

Thus Ganesha continues to exist and evolve in the minds of the believers along with the social and technological developments. Ganesha is traditional, yet contemporary, and thus continues to be relevant in the modern times!