Ganesha's Presence in the World of Music :
Lord Ganesha is glorified as "VIGHNESVARA" (Lord of all obstacles) or "VIGHNA NASHAKA" (destroyer of all obstacles). Hence Lord Ganesha is worshiped at the commencement of every venture a devoted Hindu undertakes, whether it is a household duty, a religious worship, an academic pursuit, or a business adventure.

It is believed that Lord Ganesha is the inspiration of all music too as the rhythms and vibrations of the universe are channelled through him, and that we humans are purely vehicles of Ganesha's universal musical expression.

Chants
The Ganesha worship usually comprises of reciting or chanting of the slokas (hymns that accompany religious rituals) or mantras while performing puja to the god. Siddhi mantras or Ganesha mantras contain specific powers of Lord Ganesha which get invoked through the chants. They are said to ward off all evil, and bless the devotee with abundance, wisdom and success, when chanted with the proper pranayama.

Earlier priests of the temples, learned pundits, Sanskrit scholars were the only people who knew these mantras and were passed on orally to the future generations. But with technological advancement and the arrival of the concept of recorded music, audio cassettes made these available to the general masses. Nowadays these are rendered devotionally by many prominent Indian musicians and singers and are available in the form of audio CD's.

The following titles of some music CD's indicate a few such examples:
*Maha Abhishek Atharvasheersha -By Shubha Mudgal
*Ganesh Mahamantra and Ganesh Gayatri - By Lata Mangeshkar
*Om Ekdantaay Vidmahe - By Pandit Jasraj
*Ganesh Mahamantra - By Jagjit Singh
*Ganesh Mahamantra and Vakratunda Mahaakaaya - By Asha Bhosle
*Om Gam Ganpataye Namah - By Pandit Jasraj
*Ashtottarshat Naamavalee - 108 Names of Lord Ganesh - By Pandit Jasraj


A music CD with 'Ganesha Mantra' rendered singers Suresh Wadkar and Sanjayraj Gaurinandan

BHAJANS
Bhajans are a genre of music. They are simple songs expressing the many splendored emotions of the love for God, and are purely devotional. They are usually outpourings of music which are complete submissions or self surrender to the divine through singing.

The groundwork for bhajans was laid in the hymns found in Sama Veda, the fourth Veda in the Hindu scriptures. They are distinguished from the Sanskrit shlokas by virtue of their easy lilting flow, the colloquial renderings and the profound appeal to the mass. The fixed tunes, repetition of words and phrases lend a kind of tonal mesmerism. Anecdotes, episodes from the lives of Gods, preaching of saints, description of God's glories have been the subject of bhajans.

Great exponents of bhajans were usually great devotees too, like Tulsidas , Surdas, Meera Bai, Kabir and others. In the modern times, composers like Pt. V. D. Paluskar and Pt. V. N. Bhatkhande have tried to combine Indian classical music - which had been an exclusive domain of the elite - with bhajans, thereby democratizing the Raga tradition.

Ganesha has been a popular subject for this kind of musical rendering as well.

The bhajans have a huge popularity with the masses. Bhajan mandalis (a gathering to sing bhajans) have been in existence in the Indian villages since the beginning of the Bhakti era, have proved to be great social leveller where individuals unhesitatingly participate in the singing, relegating their petty differences to the background. This participatory action elicits recreation and consequently a kind of mental relaxation . They close their eyes to ensure that they concentrate and thereby meditate on this near ecstasy. The words, tunes, rhythms and the typical repetitive style of the bhajans give a certain sense of permanency that is known as shashwat (freedom from the state of flux).

Bhajans, as a genre, have come a long way weaving a home for itself into the core of human hearts. There are many traditions of bhajans formed over the ages, and each sect has their own sets of bhajans and ways of singing them. These are sung in a group comprising devotees, with a lead singer. 


A music CD having Ganesha bhajans, titled 'Sarvamangal Ganesh' rendered by the famous singer Lata Mangeshka

Examples of some Ganesha bhajans sung by a few famous Indian singers are given below: *Vakratunda Mahakaya by Jagjit Singh
*Jai Ganesh Deva by Suresh Wadkar
*Sukhakarta Dukhahrta Chorus, Shree Ganapati Atarvashirsha Chorus
*Ganesh Namavali by Suresh Wadkar

The bhajans and devotional Ganesha music is usually available in almost all of the Indian languages. The compositions and renderings thus indicate the popularity of this God.


A music CD with devotional Ganesha songs in the south Indian language- Telugu


GANESHA AARTHI
An important activity that takes place during the Ganesha Chaturthi in India is the aarti. This consists of waving a holy flame in front of the idol of Lord Ganesha and singing bhajans (devotional songs) in praise of him. The aartis are usually held morning and evening during the ten day long annual Ganesha festival or Ganeshotsav. An example of one such bhajan Jai Ganesh, Jai Ganesh is given below.

Ganesha Aarti --Jai Ganesh, Jai Ganesh.
Jai Ganesh, jai Ganesh, jai Ganesh deva
Mata jaki Parvati, pita Mahadeva.

Ek dant dayavant, char bhuja dhari
Mathe par tilak sohe, muse ki savari
Pan chadhe, phul chadhe, aur chadhe meva
Ladduan ka bhog lage, sant kare seva.

Jai Ganesh, jai Ganesh, jai Ganesh deva,
Mata jaki Parvati, pita Mahadeva...

Andhan ko ankh det, kodhin ko kaya
Banjhan ko putra det, nirdhan ko maya
Surya shaam sharan aye, safal kije seva.

Jai Ganesh, jai Ganesh, jai Ganesh deva,
Mata jaki Parvati, Pita Mahadeva...

English Translation of the Ganesha Bhajan:
Glory to you, O Lord Ganesha!
Born of Parvati, daughter of the Himalayas, and the great Shiva.

O Lord of compassion, you have a single tusk, four arms,
A vermilion mark of on your forehead, and ride on a mouse.
People offer you betel leaves, blossoms, fruits
And sweets, while saints and seers worship you.

Glory to you, O Lord Ganesha!
Born of Parvati, daughter of the Himalayas, and the great Shiva.

You bestow vision on the blind, chastened body on the leprous,
Children on the sterile, and wealth on the destitute.
We pray to thee day and night, please bestow success upon us.

Glory to you, O Lord Ganesha!
Born of Parvati, daughter of the Himalayas, and the great Shiva.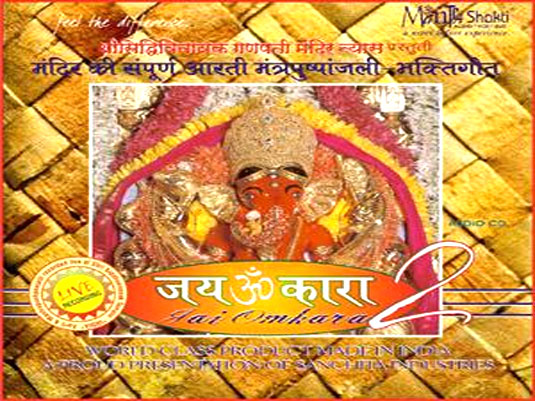 A music CD carrying the aarati and bhajans sung in the Siddhi Vinayaka templein Mumbai, India


GANESHA IN CARNATIC MUSIC
Like all art forms in Indian culture, Indian classical music is believed to be a divine art form which originated from the Devas and Devis (Hindu Gods and Goddesses).

There are two genres of Indian classical music - Carnatic and Hindustani. Carnatic music has evolved from ancient Hindu traditions and the main emphasis is on vocal music. Carnatic music is mainly sung through compositions. Hindustani music emerged in North India with Persian and Islamic influences.

In both Carnatic and Hindustani genres of music the basic elements of sruti (the relative musical pitch), swara (the musical sound of a single note), raga (the mode or melodic formula), and tala (the rhythmic cycles) form the foundation of compositions. Carnatic and Hindustani music are usually taught and learnt through compositions but do have stylistic differences.

Carnatic music is very devotional in nature. Carnatic musical performances are usually conducted in large halls were a small group of musicians seated on an elevated stage enthral the audiences. The performing group usually consists of a main performer, a melodic accompaniment, a rhythm accompaniment, and a drone.

Carnatic music is usually associated with the four southern states of India - Andhra Pradesh, Karnataka, Kerala, and Tamil Nadu. Also this music was mainly patronized by the kings of Mysore and Travancore in southern India in the 18th through 20th centuries.

Composers of Carnatic music were often inspired by religious devotion and were usually scholars proficient in one or more of the languages Kannada, Malayalam, Sanskrit, Tamil, or Telugu.

Purandara Dasa, who is known as the father of Carnatic Music, formulated the system that is commonly used for the teaching of Carnatic music. Apart from him other composers are Tyagaraja, Muthuswami Dikshitar, Syama Sastri, Arunachala Kavi, Annamacharya, Narayana Theertha, Vijaya Dasa, Bhadrachala Ramadas, Sadasiva Brahmendra, Oottukkadu Venkata Kavi, Swathi Thirunal, Gopalakrishna Bharathi, Neelakanta Sivan, Patnam Subramania Iyer, Mysore Vasudevachar, Koteeswara Iyer, Muthiah Bhagavathar, Subramania Bharathiyar and Papanasam Sivan.

Carnatic music itself developed around musical compositions of these phenomenal composers. The compositions of these composers are rendered frequently by musicians of today.

In the present day, Carnatic music is presented by musicians in concerts or recordings, either vocally or through instruments.

A kriti on Lord Ganesha is mandatory at the beginning of every Carnatic musical concert for its success. A kriti is a format of a musical composition typical to Carnatic music. This is a longer format of a Carnatic music song. Kritis form the mainstay of any typical Carnatic musical concert.


POPULAR GANESHA KRITIS IN CARNATIC MUSIC
Amongst the various gods and goddesses that most Carnatic compositions are dedicated to, Lord Ganesha features in many of them. There are hundreds of songs that praise the benevolent Lord. For example Muthuswamy Diksitar has composed 27 Ganesha kritis. Similarly there are many Sanskrit, Telugu, Kannada, Tamil compositions dedicated to Ganesha.

Every composer has made a contribution, thus there exist many popular compositions on Lord Ganesha from a variety of composers and are frequently performed in Carnatic musical concerts.

Also there is a composition of every imaginable format and flavour in Carnatic music in praise of Ganesha. A few examples are presented below.

There is a varnam on Ganesha, "Gananayaka" in the pleasant Ragam Sunadavinodini, composed by Maharajapuram Santanam. (Varnam is a form of song in the Carnatic music repertoire, and is a relatively long piece to render taking from f 30 minutes to up to an hour.)

In fact music lessons for the beginners usually commence with the traditional Pillari Gitam, "Shri Gananata sindhura varna" composed by the Saint Purandaradasa.

Pallavi expositions in the Ragam Hamsadhvani invariably feature lyrics in praise of Ganesha. In Carnatic music "pallavi" is the thematic line of a song. It is usually one cycle long and repeated twice in order to give the percussionist the idea of the chosen taalam. ("Tala" in Sanskrit means a "clap". Talam is the pattern that determines the rhythmic structure in a musical composition. Carnatic vocalists demonstrate tala by clapping their palms. Instrumentalists, having their hands engaged on the instruments, use their feet and the thighs to tap and mark the beats.)

There are two Ragamalika compositions, "Uccista Ganapathe" (composed by Sundaresha Sharma) and "Vinayaka Vinayaka" (Ghana raga, Pancaka Ragamalika composed by Ganapati Saccidananda).
There is "Satata Gananatha" by Purandaradasa. Muthuswamy Diksitar has written the "Shakti sahita ganapatim" on Ganesha.

Devotees all over sing several popular bhajan songs and Namavalis on Vinayaka or Ganesha. The Tamil saint poetess Auvaiyyar poured out many soulful devotional songs and prayers (Vinayakar agaval) on Ganesha.

There is even a mangalam devoted to Ganesha. Papanasham shivan's "Vighna Vinayaka murttikku mangalam", in Madhyamavati is an appropriate Mangala kriti on Ganesha.

In between these special types of compositions lie hundreds of soul stirring kritis, songs, bhajans devoted to Ganesha.

Thus the devotional outpourings to Ganesha will continue and bring in a lot of peace, wisdom and contentment to the listener. Music related to Ganesha is an industry in itself!