"In sacred places of worship, stones of little value are shaped as Divine forms or idols. But when the feeling of devotion transmutes the idol, it becomes the highest treasure for the human mind." Satya Sai Baba.


(Image source)


Reverence in Public
Ganesh Festival
Ganesh Chaturthi (also known as Vinayaka Chaturthi) is celebrated as the birthday of Lord Ganesh throughout India by all Hindu's as a huge festival. It is celebrated on the fourth day of the bright fortnight of Bhadrapada month of Hindu calendar. It is among the most celebrated festivals in India, and perhaps the only one involving general public (others only involve families and friends and are celebrated privately).

The significance of celebrating Ganesh Chaturthi is to get free from the worldly attachments with discrimination and to vanquish the ego by surrendering to the Lord Ganesha who promises protection and also to attain the bliss of spiritual enlightenment.

Lord Ganesha the elephant headed god is believed to be a God of power and wisdom. This festival was not celebrated with public participation until the times of Lokamanya Bal Gangadhar Tilak, the famous Indian freedom fighter. Ganesh Chathurti was an important festival during the Peshwa rule in Maharashtra, but acquired a more organized form during the Indian Swaraj movement. Lokamanya Tilak visualized the cultural importance of Ganesha, and brought in the practice of Ganesha Chaturthi as a community celebration. He brought Ganesha into the heart of every Maharashtrian as a part of socio-cultural movement and used it as a great means to unite Hindus all over India to fight for freedom from colonisation.

This is one of the main festivals that are celebrated joyfully by large groups of people, in Maharashtra, Karnataka and Andhra Pradesh. Different sizes of beautifully decorated idols of Lord Ganesh are created by specially skilled artisans in these states and are sold for this festival. The idols are usually made of clay or plaster-of-paris
Enormous amounts of funds are collected and innovative ways are devised each year to create memorable Ganesh mandaps (temporary structures). This public festival apart from having just religious quality brings together all castes and communities who work with great fervour and enthusiasm in organizing it.
Ganesh Chaturthi starts with the installation of these Ganesh idols amidst, gaiety in the uniquely decorated mandaps. There is also a spirit of competitiveness in organising the best mandap. The festivities last for the next ten
A few images of Ganesh visarjan in Mumbai
Other than Ganesha Chaturthi, Ganesha Jayanti is celebrated on the fourth day of the waxing moon in the month of Magh. The fourth day of the waxing moon is called Vinayaki Chaturti . The fourth day of the waning moon is called Sankashti Chaturti. Ganesha is also worshipped on these days to avert problems and disasters. Apart from these, days Pancha Ganesha festival is celebrated in the USA by Hindus which was spear headed by the Himalayan Academy to promote Hinduism amongst the children of the Indian community.

No other state in India dotes on Lord Ganesha like Maharashtra. Every year the whole state reverberates with rhythm and music in praise of the Lord for ten days, starting with Ganesha Chaturthi and culminating in a grand, pompous immersion ceremony on Ananta Chaturdashi day.

Despite the intrusion of modern tastes and living habits among the younger generations, the deep roots of the Ganesha worship continue here and appear to stay for eternity.


Ganesha In Maharashtra
Ashtavinayak Temples in Maharashtra:


The most important of the Ashtavinayaka temples is the Moreshwar temple at Morgaon. The sanctum sanctorum houses Mayureshvara -Peacock Lord, a primordial Ganesha idol with a left-sided trunk, fully smeared with saffron and protected by the hood of a cobra.




This next temple is the Siddhivinayak temple at Siddhatek. The idol of Ganesha here is right-tusked and known as Siddhivinayak – Masterful remover. Devotees are enjoined to be extra careful about the rituals and austerity while worshiping a right-tusked Ganesha. 



The temple to visit next is that of Ballareshwar at Pali. The name comes from Ganesha saving a boy named Ballala who spent all his time praying to Him. Angered by the boy's obsessive behaviour, the villagers beat him up mercilessly, and it was Lord Ganesha who intervened to save his life. There are two Ganesha temples here. One has to first visit Shri Dhundivinayaka, the idol which Ballala worshiped, before proceeding to visit Shri Ballaleshvara in the main temple.



The next in the Ashtavinayak temples is the Varadavinayak temple at Mahad. Many devotees place their head right at the feet of the idol to seek blessings of Varada Vinayaka - Lord of Boons. An interesting feature of this temple is an anantadipa (eternal flame) that has been kept alight since 1892.



The temple to visit next is that of Chintamani at Theur. Lord Ganesha here is known as Chintamani - jewel of consciousness.



This next temple is that of Girijatmaj at Lenyadhri. The name indicates a cave in a mountain. Ganesha as Shri Girijatmaja means – mountain born. This temple is atop a hill accessible after climbing 283 steps and is a single large room about 57 feet long and 51 feet wide, cut into the rock with no supporting pillars anywhere.



The next in the Ashtavinayak temples is that of Vighnahar at Ojhar. This temple is just off the Pune-Nasik highway and houses Shri Vighneshvara - Lord of Obstacles, flanked by Buddhi and Siddhi, as his consorts are popularly known in Maharashtra.



The last in the list of the Ashtavinayaka shrines is the temple of Mahaganapathi- Great Lord of Hosts at Ranjangaon. This is located on the highway connecting Pune and Ahmednagar. Here too Ganesha is flanked by Buddhi and Siddhi on his either side.
The source of the images of the Ashtavinayakas presented below at the eight temples is
(Website source)

The actual idols at the Ashtavinayak temples are presented below.


(Image source)

In addition to the famous Ashtavinayaka temples, Maharashtra boasts a bounty of Ganesha temples in every nook and corner some famous, others not so.

The more important ones include Shri Siddhi Vinayaka temple of Mumbai, shown below.


(Image source)


The idol of Ganesha in Shri Siddhi Vinayaka temple of Mumbai. (Image source)



Prayers being offered by devotees at a Ganesha temple (Image source)

The other well known temples are Shri Maha Ganapati temple (famous as a matrimonial matchmaker) at Titwala, close to Mumbai, Shri Mangala Murti temple at Chinchwad, a suburb of Pune, Shri Kasva Ganapati and Shri Sarasbag Ganapati temples, both of Pune city. On the Arabian Sea coast, just off Ratnagiri, Ganapatipule houses a temple that is washed by the waves of the sea every day. This is a major attraction for tourists and devotees. Other well-known ones are Dasabhuja Ganapati temple near Chiplun on the coastal belt, Siddhi Vinayaka temple at Nandgaon, Vighnayana Ganapati temple at Rakshasabhuvan in Marathwada, Modakeshvara temple at Nasik and Shri Ganapati temple at Seetabardi, Nagpur. There is a belief that pilgrims who visit all the above mentioned temples during a single tirthayatra (spiritual outing), would gain the ultimate blessings of the Lord Ganesha.

In some temples the Ganesha idol is installed at the entrance to the central sanctum, at the south, and also at the South-western corner in the first court, of every Siva temple.

One of the many forms of Ganesha is found in every Hindu temple and also every Hindu village and community has a temple of the Lord Ganesha.

Some of the Ganesha temples are often quite humble, like a simple roadside shrine. These in fact outnumber the huge and ornate temples. Their large numbers confirm that Ganesha worship is indeed a deeply ingrained Indian, mostly South Indian habit. These are usually tiny spaces created under a roadside tree, at road turnings, outside residences, along highways, in tiny corners of parks, in the most unexpected of public places. These are viewed in passing and a salutation is offered from the heart.

A few examples these Ganesha shrines are shown below. 


A Ganesha shrine at a street corner



A Ganesha shrine amidst shops on busy main road 



A close up of the Ganesha idol from the shrine shown in the previous image. He is revered by the passersby.



Ganesha shrine in a park (Image source)

Like in Maharashtra, there are significant Ganesha temples all over the country visited by the believers, as Ganesha worship is considered to be most effective in illuminating the consciousness, and hence he is sought after and propitiated.


Kanipakkam Ganesha temple:
Like in Maharashtra this is one among the popular pilgrimage centres of AndhraPradesh. This is located close to Tirupati. This is also known as Vara Siddhi Vinayaka Temple,Kanipakkam. The significance of this temple is the presence of a 'swayambhu' idol (naturally manifested) of Lord Ganesha, inside a small well. The idol was found here many years back and local people claim that the idol is growing in size every year. Also during the monsoons water overflows from this well. The temple was built by Chola King in 11th Century.   


(Images source)

Rockfort Ucchi Pillayar Temple: This is one of the oldest temples in India; dating back to 10th century AD. This temple is located in Tiruchirappalli, Tamil Nadu. It is perched atop one of the oldest rocks in the world-3 billion years old and 83m high. Ganesha in this temple is known as Pillaiyar. This temple was first patronized by the Pallavas and later by the Nayaks of Madurai during the Vijayanagar era. The British during the Carnatic wars, fortified the temple giving it the name Rockfort temple.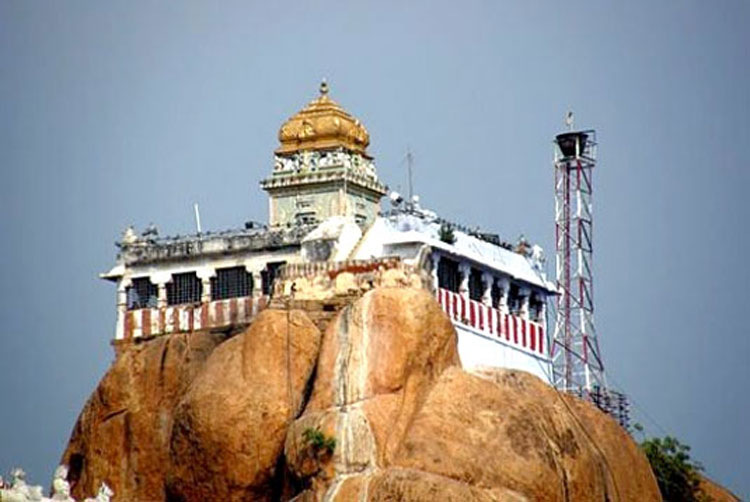 (Image source)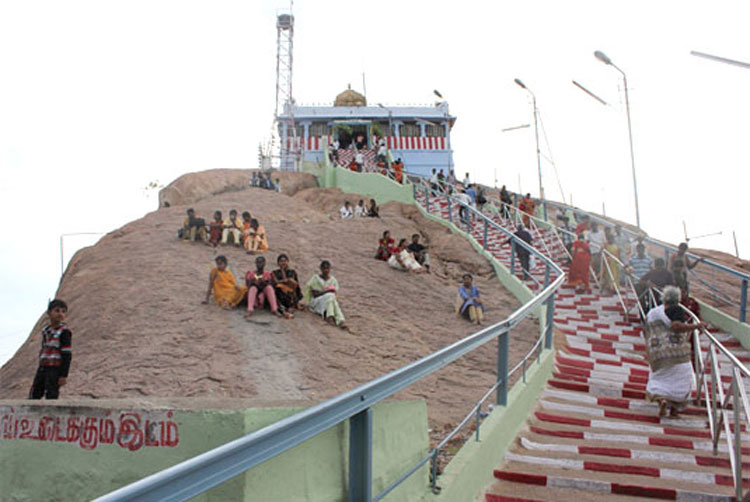 (Image source)

Some of the popular Ganesha temples in other parts of India are:
• Sri Sri Sri Sidha Binayak Pitha, Berhampur, Ganjam, Orissa, India
 (www.sidhibinayakpitha.org)
• Girijatmaja Vinayak Temple, Pune, Maharashtra,
• Ranthambore Temple, Sawai Madhopur, Rajasthan,
• Ganesh Tok Temple, Gangtok, Sikkim,
• Ganapathi Temple Idagunji,Karnataka
• Ganapathi Temple in Kottarakkara, Kerala,
• Ganapathi Temple, Malliyur, Kottayam, Kerala,
• Sree MahaGanapathy Temple, Panniyali, Omalloor, Pathanamthitta, Kerala
• Maha Ganapathi Temple, Ganapathivattam, Sulthan Batheri, Wayanad, Kerala
• Maha Ganapathi Temple, Pampa, Kerala
• Iswaramangalam Ganapathi Temple, Kerala
• Edappally Ganapathy temple, Kochi, Kerala
• Velam Ganapathi temple, Mayyil, Kannur, Kerala
• Madhur Maha Ganapathi Temple, Kasaragod, Kerala
• Suryakalady Maha Ganapathi Temple, Nattassery, Kottayam, Kerala
• Ganapathi Temple, Pazhavangadi, Thiruvananthapuram, Kerala,
• Ganapathi Temple, Vazhappally Mahadevar Temple Complex, Changanassery, Kerala,
• Sree Vinayaka Mandir, Sarojini Nagar, New Delhi, (Siddhi Buddhi Sametha Karpaka Vinayakar)
• Karunya Mahaganapathi Temple, Mayur Vihar Phase II, Delhi
• GDP Temples, Shimoga, Karnataka,
• Chintaman Ganesh Temple, Ujjain, Madhya Pradesh, India
• Chintamani Temple, Pune, Maharashtra,
• Ganapati Temple, Pernankila, Karnataka,
• Anegudde Sri Vinayaka Temple, Anegudde, Udupi district, Karnataka,
• Idagunji Devasthana Temple, Idagunji, Uttara Kannada district, Karnataka,
• Ganapatipule Ganapati Temple, Ganapatipule, district of Ratnagiri, Maharashtra,
• Tekadicha Ganapati Temple, Nagpur, Maharashtra,
• Karpaka Vinayakar Temple, Pillayarpatti (near Madurai), Tamil Nadu, - Where Lord Ganesha    is worshiped in his Swayambu Form. He is known as Karpaga Vinayagar.
• Sharavu Mahaganapathy Temple, Mangalore, Karnataka,
• Velam Mahaganapathi Temple, Mayyil, Kerala
• Dodda Ganesha Temple, Basavanagudi (near Bangalore), Karnataka,
• Shri Sunder Vinayak, Pratishthanam (near Bangalore), Karnataka,
• Shri Vijaya Ganapati Temple, Ullagaram (near Chennai) Tamil Nadu, – Vijaya Ganapati    means "The victorious Ganesha".
• Madhur Mahaganapathi Temple near the town of Kasaragod, in Kasaragod district, Kerala,
• Pazhavangadi Mahaganapathi Temple,Thiruvananthapuram city,Kerala.
• Sri Maha Ganapathi Temple, Sapthagiri Colony, Vedayapalem, Nellore, Andhra Pradesh, (www.Vignesha.com).

A website that lists many of Lord Ganesha's temples in the other states ofIndia:
(website source)

Lord Ganesha is also worshiped on almost every continent in this world. He is worshipped in temples and home shrines in the present day in India, Sri Lanka, Nepal, Malaysia, Java, Bali, Borneo, Tibet, Myanmar, Siam, Afghanistan, the Middle East, China, Indo-China, Japan, the Caribbean, Trinidad and Tobago, Hawaii and the Pacific Islands, Africa, Mauritius, Reunion, Europe, Australia, Canada, South America, the United States and elsewhere.

He is one of the most revered gods in the Hindu pantheon.


PERSONAL
Personal worship


Ganesha is called Mangal murti or the embodiment of auspiciousness. Mangal means auspiciousness and also means the planet Mars, or Mangal Graha the planet of aggressiveness. This is also why Ganesha rituals are performed on Tuesday – the weekday associated with Mars.

The all-pervading Ganesh, also known as Gajanana has countless temples all over India and is worshipped with more affection than awe in every Hindu home. There are more temples, roadside and home shrines dedicated to Lord Ganesha than to any other God in the Hindu pantheon.

A sacred shrine at home, functions as an extension of the temple, and most of the Hindu families worship Lord Ganesha in their home through the traditional ceremony known as puja. An idol made of metal or stone, or a framed picture of the Lord Ganesha is placed in the shrine and offered worship. Pujas can be as simple as lighting a lamp and offering a flower at the Lord's holy feet; or they can be elaborate and detailed, with many chants and offerings. The indispensable part of any puja is devotion. It is believed that by performing puja daily at home, divine energies are invoked and the home becomes a sacred sanctuary.

The puja is performed along with the offering of fresh flowers especially erukku (botanical name-Calotropis) flowers as these are considered a favourite of Lord Ganesha. Sometimes erukku flowers are stringed together and placed round the crown and neck of Ganesha. Along with this flower, the common hariali grass (durva in Sanskrit and botanically known as Cynodon dactylon) blades are also considered another favourite of Lord Ganesha. Blades of this are made into a wreath and placed on the shoulders of Ganesha during worship.

Preparation is an integral part of worship. Before performing the puja, preparation is of utmost importance -- gathering flowers, cleaning the idols, shrine and puja tray, getting the oil lamps ready and preparing the fruit and/or cooked food offerings. It is common to chant the 108 or 1,008 holy names of Ganesha or to softly sing devotional songs while performing these tasks. This process quiets the mind of the devotees and brings their awareness close the Lord Ganesh.

A few examples of home altars/shrines with Ganesha idols or images are presented below.


(Image source)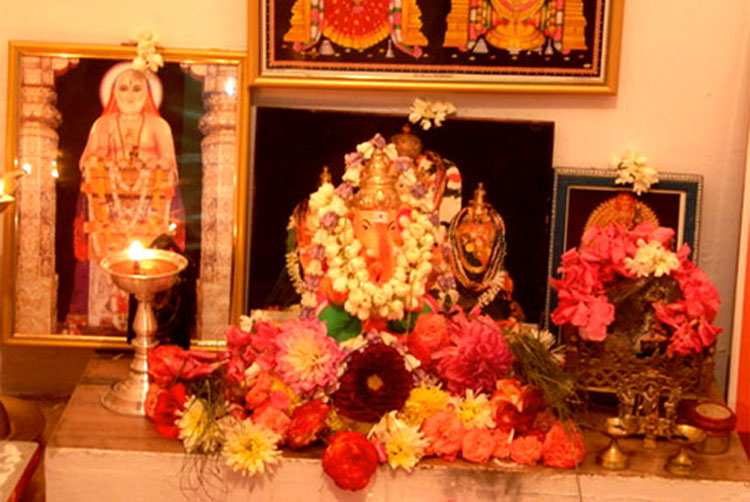 (Image source)

Apart from the home altars, people believe in having portable shrines of Lord Ganesha. These are like stickers, or visiting card sized Ganesha pictures carried in wallets, in pockets. People also always have a tiny idol or picture frame of Ganesha in their car dashboards, sometimes along with other deities too.

Car dashboard Ganesha shrines


(Image source)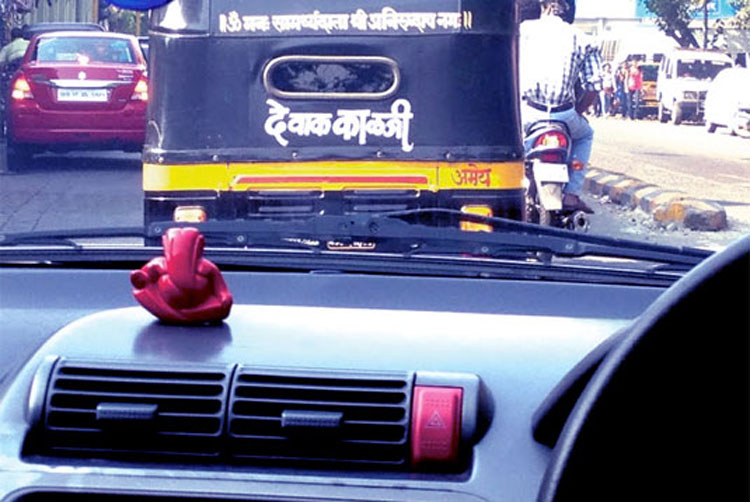 (Image source)

Almost all vehicles, public or private – autorickshaws, cars, taxis, buses, trucks have either a Ganesha idol or a painted picture at the dash board area or even the name -("Mangal murti", "Om Ganeshaya namaha", "Jai Ganesh" etc) painted in front of the driver's controls.
The hood of an autorickshaw meter resembles Ganesha's face and ears. Some of them are accentuated by painting them orange- a colour strongly associated with Ganesha.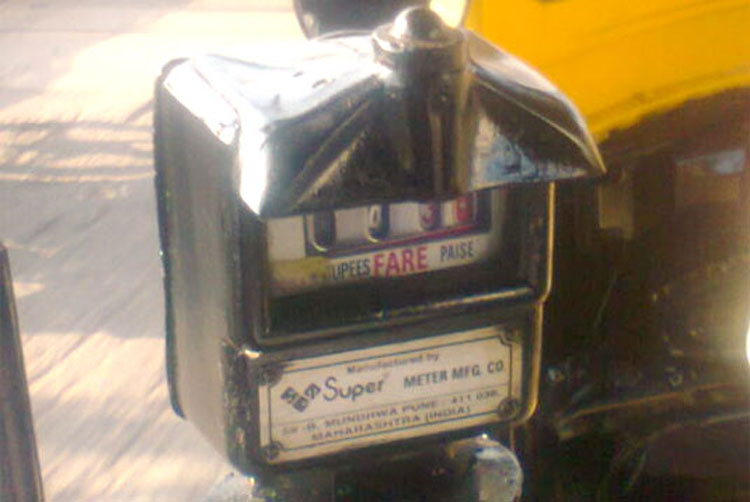 (Image source)


(Image source)
These examples of devotion only confirm the supreme belief Hindus have in this grand Lord Ganesh, as a talisman who they believe will guide their travel, be with them always and constantly protect them.