The Indian subcontinent being such a vast one and bounded by natural forms such as rivers and mountains gave rise to a lot of tribes within the subcontinent each practicing their own unique culture. These tribes developed various forms of art, visual being one of them. These were mainly the depiction of their daily activities or the representation of the holy texts. Folk and tribal art flourished too in this era which is very difficult to date in a timeline due to it flourishing in the depths of the forests amidst unreachable human civilization.
Madhubani:
Madhubani painting or Mithila painting practiced in the Mithila region of Bihar state, India and the adjoining parts of Terai in Nepal, is one of the styles of Indian paintings. Characterized by eye-catching geometrical patterns these paintings are done with fingers, twigs, brushes, nib-pens, and matchsticks, using natural dyes and pigments. There are paintings for each occasion and festival. For eg. occasion and festival like Birth, Marriage, holi, Upanayanam (sacred thread ceremony), , surya shasti,  kali puja and Durga puja.



Madhubani painting.


Patachitra:
Originated from the temple of Jagannath at Puri in the 12th century; Patachitra painting is considered as important form of Oriya paintings. This style was developed under the patronage of the Ganga kings, and the kings of Bhoi dynasty. The purpose of these paintings was to popularize the cult of Jagannath to the millions of pilgrims visiting Puri. The patachitra paintings; however, may take a number of forms and may range from masks to even toys and models.



Patachitra painting.

Warli:
Warli paintings use a very basic graphic vocabulary: A circle, triangle and a square. The paintings were monosyllabic. The circle and triangle come from their observation of nature; the circle representing the sun and the moon, the triangle derived from mountains and pointed trees.



Warli painting on a wall, inside the house. Made on the event of a wedding.

Sohrai:
Sohrai is a art form of house painting done during Harvest seasons unlike Khovar art which is done during Marriage seasons. It is considered as sacred ritual tradition and the colorful paintings done Chewed sticks of trees (used in villages to brush their teeth) are used by artists. Water is used to dilute the mixture. Sohrai is said to be following upon similar patterns and styles once used to create other rock arts in the region.



Sohrai Painting.
Source: http://talesofhazaribagh.weebly.com/index.html

Khovar:
This is also considered as sacred ritual tradition (like Sorai art - done in harvest seasons) of painting houses during marriages in villages to mark the bonding. To make Khovar, a coat of black mud which is followed by the coat of white mud ('dudhiya mitti') is applied. After the double coating, a wooden comb-type tool is used to peel of the white layer in certain patterns ultimately revealing the black coat in a pattern as desired.



Khovar Painting.
Source: http://talesofhazaribagh.weebly.com/uploads/9/6/0/7/9607934/7896736.jpg?505

Kavad:
Kavad also called as "god-boxes" are the portable wooden shrines with multiple folding doors, on which the stories are painted on each panel of the box. Mostly in 80 Cms in height; these boxes are made of light wood. Kaavad with larger size/ ht.  are also found. It's the art of storytelling through pictures painted on the boxes. Most of the stories are related to the epics- Life of Krishna, Ramayana, Bhagavad Gita, Puranas and Tantras etc. with references to local myths and patrons towards the end.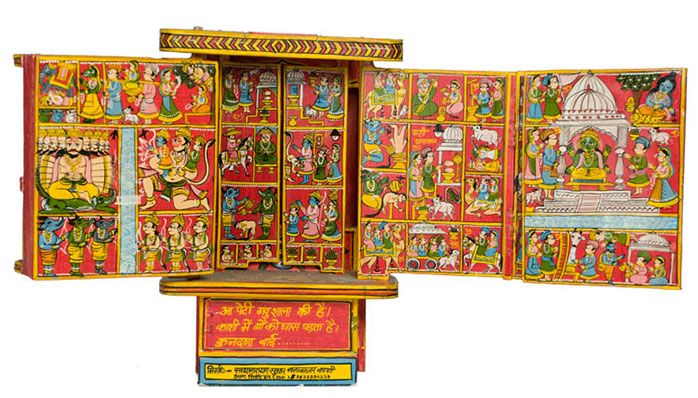 Kavad.


Rangoli:
Rangoli is the decorative forms and patterns made on ground, floors and courtyards during Hindu festivals. It's a folk art from India and is considered as sacred welcoming areas for the Hindu deities. It has passed down from ages and generations which keep the art and tradition alive. These decorative patterns are created with different materials like dry flour, colored rice, sand or even flower petals.

Most of the Indian states has their own way of creating patterns and even are called by different names. For eg. Kolam in Tamil Nadu, Madanae in Rajasthan, Chowkpurna in Northern India, Alpana, Aripana, chowk pujan in Bengal, Bihar, Uttar Pradesh respectively. Said to bring 'Good Luck' and purpose being decoration, the Rangoli patterns vary as they reflect traditions, folklore and practices that are unique to each area. Traditionally done by women/ Girls in the family, modern additions have been adapted over the years. The practice of drawing Rangoli is mostly seen during occasions such as festivals, auspicious observances, celebrations, marriages, gatherings etc.



Rangoli.

Indian Tribe Tattoos:
Tattoos play an integral part of life in the tribal society. They signify the social and economical well being of a person. They mark important times in the life of a person and they are the sole things that can be carried back into after life when a person dies. Tattoos have been a medium to ink down literally the history of the society.



Indian Tribe tattoo.
Source: http://farm1.static.flickr.com/151/389044314_ac96872365.jpg

Mehndi:
Widely practiced in countries like India, Pakistan and Bangladesh; the application of henna as a temporary form of skin decoration is called Mehndi. The word 'Mehndi' is derived from the Sanskrit word Mendhika.  The uses of Turmeric & Mehndi are described in the earliest Vedic ritual books and are the Vedic customs which represent outer and inner sun symbolically. Vedic customs are centered around the idea of "awakening the inner light".



Mehndi.