Movie Posters:
Movie posters as seen alongside are no new sight for any person from rural India. Posters as seen here are done at the city itself and mostly in two or three colors. The size of the poster is usually around that of an A1 standard sheet. These posters are done as solution to expensive print posters.



Movie poster in rural India
Source: http://www.feltandwire.com/wp-content/uploads/2010/06/avatar.jpg

Movie posters of Bollywood movies are quite an example of various explorations in display typography and vibrant use of colours. Many artists made their living by painting these posters and large hoardings of the movies. These posters are still in demand these days as work of vintage art and sold at pawn shops. An original poster can cost quite a fortune.


Graphic on Automobiles:
Graphics on trucks across India can be seen. These graphics usually have some basic elements such as the Horn OK Please written at the back. Other words include Use dipper at night, Public carrier and National Permit. In a way these trucks have their identity painted onto them as they travel all round the country. The taxis at Mumbai have a lot of Typographic elements mostly hand painted but, now they have ventures into colored vinyl sheets.
Calligraphy:
The work of two calligraphers is commendable to the contribution to Indian Graphic Design namely, Late Prof. RK Joshi and now, Achut Palav.
Typography:
•
Indian Rupee:
Uday Kumar designed the Currency symbol for Indian Rupee, thus giving a visual image to the Indian Currency.
Rupee Symbol
•
Hand Painted Works:
Hnif Qureshi is an artist trying to preserve the Hand painted works of the sign board painters.
Type design by Hanif Quereshi
Source
:
http://littledesignbook.in/wp-content/uploads/2011/05/painter-kafeel-1a1.jpg
•
Contemporary Indic Types:
Prof. Mahendra C. Patel is the foremost Type Designer of India. Recently awarded the Guttenberg Award for outstanding work in Contemporary Indic Types, his works are commendable.
Type design by Mahendra Patel
Source
:
http://luc.devroye.org/MahendraPatel--ForMonotype-1972.jpg
•
Indic Typography:
Prof Mukund Gokhle's work in Devanagari is also one of the milestones for Indic Typography as he was the person to standardize the script and did the nomenclature for the same.
Work, Prof. Mukund Gokhle
Source
:
http://t2.gstatic.com/images?q=tbn:ANd9GcTJTf_6hT8Jd3I69Gn5hp_eKwfX-5LveiN_A03Wp28XnLfxn0tlMns4-NT-
Comics:
•
Pran:
Pran Kumar Sharma (born August 15, 1938), better known as Pran, is one of the most successful Indian cartoonists, best known as the creator of Chacha Chaudhary (1971).
The man who created that blockbuster series is none other than Pran, who is considered as the Father of Indian Comics, Because he was the one who in 1960, created first indigenous cartoons strips having Indian characters and based on local themes. Before that all comics were imported from foreign countries.
• R. K. Laxman:
Rasipuram Krishnaswamy Iyer Laxman (born 24 October 1921, Mysore, India) is an Indian cartoonist, illustrator, and humorist. He is widely regarded as India's greatest-ever cartoonist and is best known for his creation The Common Man.
The Common Man is the creation of author and cartoonist R K Laxman. For over a half of a century, the Common Man has represented the hopes, aspirations, troubles and perhaps even foibles of the average Indian, through a daily cartoon strip, "You Said It" in The Times of India. The comic was started in 1951.
When Laxman began to draw cartoons in The Times of India, he attempted to represent different states and cultures in India. In the rush to meet deadlines, he began to draw fewer and fewer background characters, until finally he found only one remaining - the now-familiar Common Man. The Common Man generally acts as a silent witness to all the action in the comic.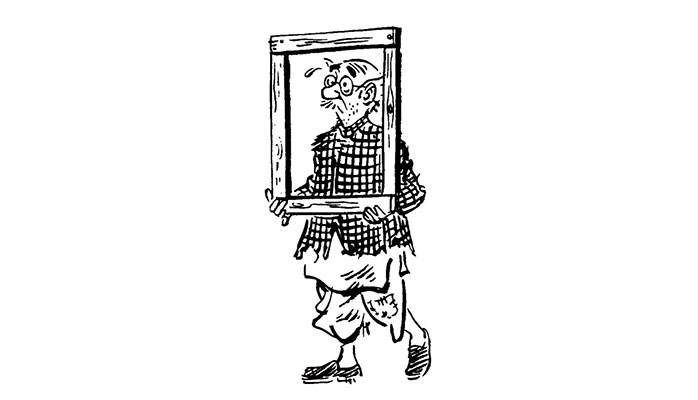 Common man by R K Laxman

Book Cover:
With the advent of print in India, the county saw various explorations in book covers in cheap two or three color screen prints. These book covers were the representation of the layout and graphic design work at those times.



Book covers

Daily Commodities:

• Food:
Parle G seems to be synonymous with snack time essentials in Indian household. The Parle name conjures up fond memories across the length and breadth of the country. After all, since 1929, the people of India have been growing up on Parle biscuits & sweets. Parle-G is the world's largest selling brand of biscuits originally packed in the wax paper pack; today it is available in a contemporary, premium BOPP pack with attractive side fins. The product has changed but the packaging design with its cute baby face and the yellow orange colour has surely come a long way.



Parle G Biscuit Packet

• Beverage:
Frooti is the brand names for the summer beverage in India. The graphic of these two also can be seen as a landmark of Graphic Design in India.


•
Firecrackers:
The firecracker packets are quite a treat in terms of Graphics portrayed on them. They can be seen as the actual Graphic hitting the people in masses designed by the people. The iconography, layouts and the portraits are unique to the country and the segment of products Similar to this is also the incense stick packets.
Graphics on the firecrackers
Source
:
http://www.cornationfireworks.com/marooncrackers.html#
•
Matchboxes:
Graphics on the Match boxes in India.
Graphics on matchboxes
Source
:
http://4.bp.blogspot.com/-JBwQ7H4luh0/Ta4afbaNDnI/AAAAAAAAHDY/QthA53YCHyI/s1600/matchbox.jpg
Indian Logo Design:
•
Some of the good logos in India:
Some of the Good Logos in India in More Recent Times:
•
Commonwealth Games pictograms by Idiom Design, Bangalore:
•
The recently designed India Design Mark:
India Design Mark
Source
:
http://littledesignbook.in/wp-content/uploads/2011/07/The-imarks1.jpg
•
Amul:
Protest Art:
Protest art is new to India. A few of the noticeable ones are the Anna Hazare campaign - where everyone wore a cal stating he/ she was Anna.
The "I am Anna Hazare cap"
Source
:
http://www.trust.org/contentAsset/resize-image/41587808-79e5-419a-96b1-6ebdd42bc9bb/photowide/?w=460&h=318&vn=201108290358
Poster Layout- Contemporary:
•
Poster Design by Marching Ants:
•
Poster Design by Grzegorz Domaradzki from Poznan, Poland:
Contemporary Graphic Design
based on Indian Theme:
•
The Elephant Company:
The Elephant Company
Source
:
http://www.theelephantcompany.com/
•
Chumbak:
•
Chimpwear:
Chimpwear
Source
:
http://chimpwear.com/index.php
•
Sanjay Patel [Contemporary]:
Sanjay Patel is an animator and storyboard artist for Pixar Animation Studios, where he has worked on numerous movies. He recently launched his new book on Hindu deities.
•
Akash Nilhani [Contemporary]:
Akash Nilhani is an artist who usually works consists of usually isometric rectangles and squares in New York. To highlight the unexpected contours and elegant geometry of the city itself.
Sculpture/Painting Akash Nilhani
Source
:
http://www.aakashnihalani.com/